Recent Finds ...
Collector Finds Wrong Planchet JFK!
by Ken Potter
To Numismatic News
6/3/2008

Images courtesy of RHM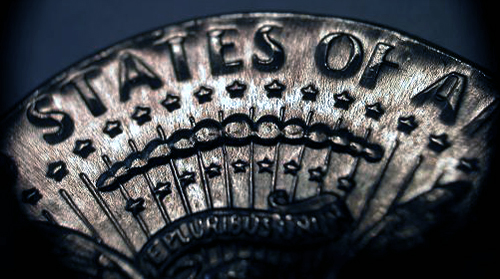 In the two images above we can see the stretching of letters and digits closest to the rim due to metal flow
of the undersize planchet attempting to fill the collar under the pressure of the strike.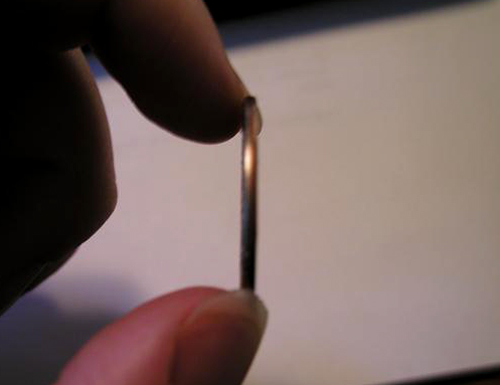 A look at the edge of the coin reveals a copper core typical of clad planchets.
June 2, 2008 -- RHM of PA reports one of the nicer finds that has come in recently. On May 30 he said: " I found this 1980-P Kennedy half in a roll yesterday and I think it might be a wrong planchet error but I'm not sure. There is only a slight trace of reeding on the edge and the condition is probably about uncirculated (AU). It's also smaller in diameter and a little thinner than a normal Kennedy half. I don't have the proper equipment to weigh it. Any help in identifying it would be greatly appreciated!"
Without an actual examination of the coin and without knowing its weight, it's impossible to conclusively attribute the planchet to a United States or other country's coin (the US Mint struck coins for other countries in 1980). What we do know from the metal flow that shows on the characters closest to the rim is that it was struck on an undersize planchet. However, the finder was able to add a bit of information that helped immensely; he later confirmed my suspicion that he could see a copper core. This suggests that it's a clad planchet of the type used for dimes through dollars during that year. In my opinion the coin is too spread-out and fills too much of the collar for it to have been struck on a quarter planchet. This suggests that it was most probably struck on a Susan B. Anthony dollar planchet. If so, an estimation of its value from a panel of error coin experts is somewhere between $850 and $1750 for an AU grade.
Rich Schemmer of Franklin Square, NY, pegged it at about $1500 for an AU and $2000 for a Mint State-60 (MS60) and higher mint state grades within a range of $2300 to $2750 for certified MS63 to MS65 grades. James Essence of Jim's Coins & Stamps, Madison, WI said, "Looks like nice piece. I would say retail price $1200-$1600." CONECA president, Mike Diamond said, "If it's on an SBA planchet I'd guess maybe $1200. Since it's close to normal diameter, it lacks a certain eye appeal. Neat, just the same." Mike Byers of Byers Numismatic Corp., San Clemente, CA, said, "It appears to be struck on a SBA dollar planchet since there is a copper core. I'd estimate approximately 10 known from all of the dates. These have sold on eBay from a low of $850. for a circulated piece, to a high of $3500 for a gem BU piece certified MS65." Neil Osina of Best Variety/Sportscards & Coins, Glendora, CA, said, "it looks to be from a Type one planchet, evenly centered with no trace of having had a raised or rolled rim. Having been struck from a type one planchet can add about 10 percent. Usually any dollar denomination with another denomination is quite rare and very desirable." Osina concurred with Essence on price. Error dealer, Fred Weinberg of Encino, CA said, "I'd estimate the value of a 1980 Kennedy half struck on an SBA Planchet at $1,750-$2,250. The 1980 Date is scarcer than the 1979-dated Kennedy on SBAs."
The Off Metal or Wrong Planchet error occurs when a wayward planchet from one denomination gets stuck in a tote bin door or for other reasons gets mixed in with planchets of another type and is then delivered to a press striking coins for a denomination other than what the planchet was intended for. To qualify it as an Off Metal it must also be made of a different composition than intended The Wrong Planchet error generally refers to a wayward planchet strike of the same composition as the intended coin but from a different denomination. Thus a Kennedy half dollar struck on a SBA planchet is a Wrong Planchet error but not an Off Metal.
Half dollars struck on SBA planchets are rare making this an extremely nice find that's hard to beat!
Contact Ken Potter at P.O. Box 33, Pinckney, MI 48169 or by contacting him via email at KPotter256@aol.com. An educational image gallery may be viewed on his website at www.koinpro.com.