Ken Potter's Educational Series ...

A Speared Bison?
What Is It?
2005-D Jefferson 5c Bison Reverse
by Ken Potter
Photos by Ken Potter © Ken Potter 2005
Coin Courtesy of Pamela Ryman-Moir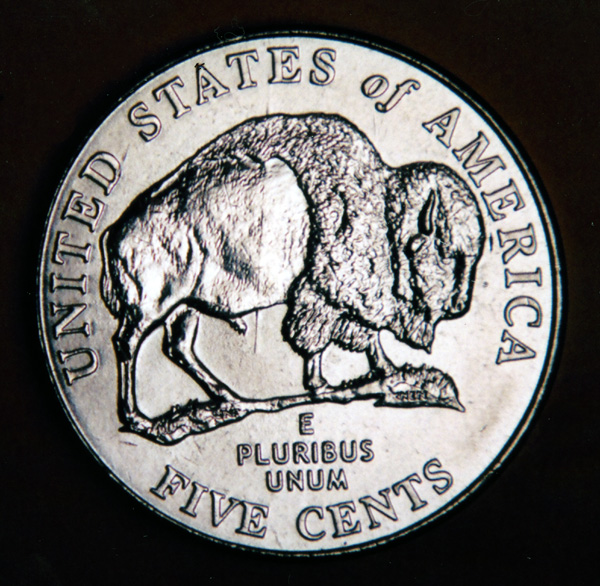 Macro photograph of one of the coins from the discovery hoard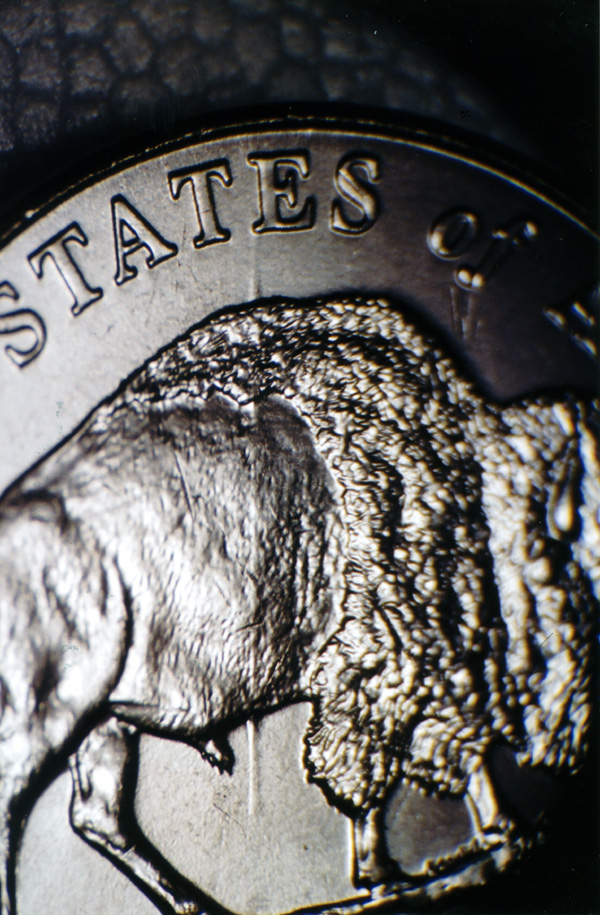 Here we see a close up of the die dent (or gouge) that created the "Speared Bison" appearance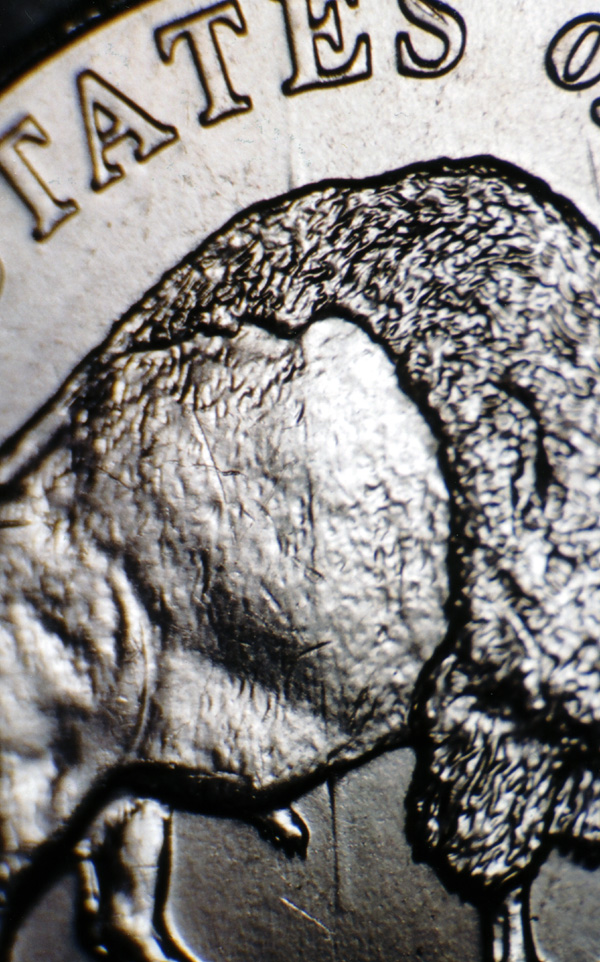 Just what is the "spear?" The ledge-like appearance on the left side and the shallow, more tapered ridge on the right, along with its width -- rule it out as being a die scratch. While die scratches are related to gouges, the die scratch is much thinner. The fact that many (if not most) die gouges have a tendency of skipping over the low points of a die (high points on a coin) suggests it is most probably not a die gouge.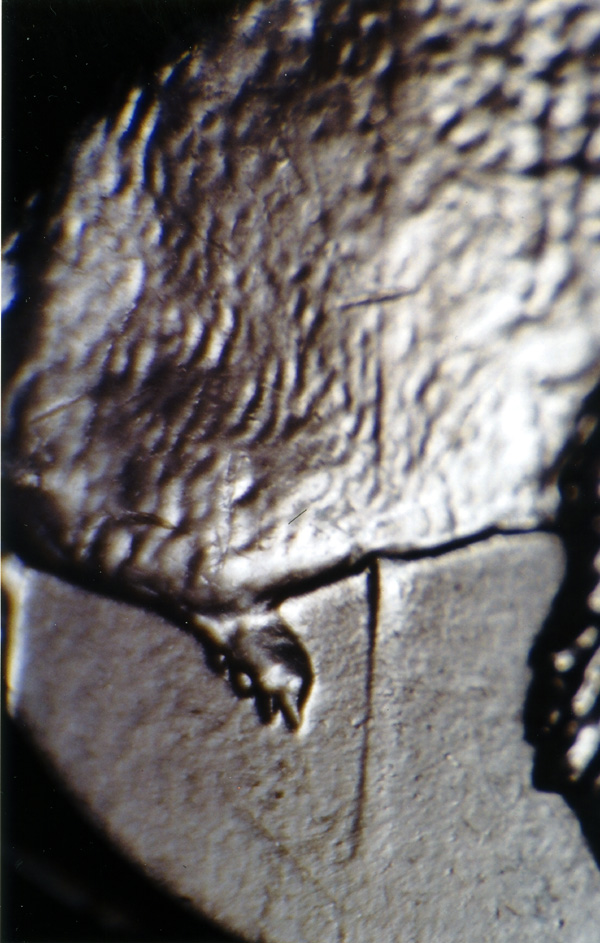 In this extreme close up we see that the texture of the "field" on the top of the aberration is virtually undisturbed and matches the texture of surrounding field. A did dent may push metal down without significantly altering the surface of the flat area on top. Most die gouges alter the field texture in some way, since instead of being pushed down into the metal and denting it, they are scraped across and down, virtually "cutting" their way into the die. Most gouges, under microscopic examination, will show a surface texture made up of a series of tightly spaced, parallel scratches from cutting and chasing metal forward. Nonetheless, constant use of the die and normal wear patterns on the die could mask the true nature of the defect and the die gouge can not be eliminated from the equation completely.
Ken Potter
P.O. Box 760232
Lathrup Village, MI 48076-0232
Phone: 1-(313)255-8907 E-mail: KPotter256@aol.com
Numismatist Since 1959 ~ Serving the Collector Since 1973
CONECA's Longest Serving Doubled Die Attributer
Member of: ANA CONECA-LM NLG NCADD-FM MSNS-LM
NWDCC RCC COINMASTERS LCS WBCC BBCC

Click below to visit (and bookmark) our homepage for a complete and updated index of links to our webpages of:
Error-Variety Coins, U.S. Defaced Coinage Dies, Medals-Silver Art Bars-Rounds, Books & Numismatic Supplies, an Educational Image Gallery, Book-of-the-Month Specials, Our Favorite Links & Article Index Page, and all future pages:
Ken Potter's Variety Vault
Educational Image Gallery
Who Is Ken Potter?

To subscribe to our Free Newsletters
(by simply requesting them) click below (request: Error-VarietyNewsletter, ReproNews, and/or Bars-Medals-RoundsUpdateNews):
Send email to: KPotter256@aol.com

For a List of Our eBay Auctions please click below:
Our eBay Auctions
Unless otherwise stated, all Photographic Images are by Ken Potter. Copyright Ken Potter, 1993, 1994, 1995, 1996, 1997, 1998, 1999, 2000, 2001, 2002. Use of images in any manner is strictly prohibited without the express written permission of the copyright holder.

Free counters provided by Andale.