Error-Variety News Classics
Book 2
(Cover price $24.95)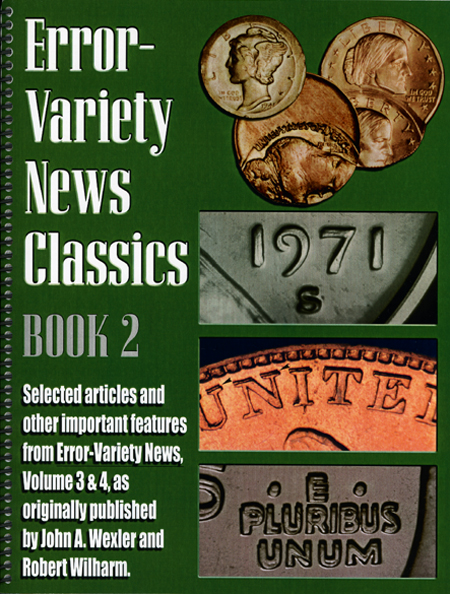 All Photographic Images are by Ken Potter. Copyright Ken Potter 1999. Use of images in any manner is strictly prohibited without the express written permission of the copyright holder.
Error-Variety News Classics - Book-2, Contains reprints of all articles from the large size issues of John Wexler & Robert Wilharm's, "Error-Variety News," Vol.3 - Vol.4 (19 issues in all). It contains hours of interesting and educational reading!
You will find feature articles and regular columns by some of the hobby's best error-variety coin authors. You will meet many of the people who helped build this hobby to where it is today and you will read all about hundreds of new discoveries as they were originally reported upon. You will tour the world's Mints in Alan Herbert's, Mints and Minting column and get a chuckle out of Sam P. Roden's monthly cartoon! These Wexler/Wilharm issues feature a stable of outstanding authors like, Alan Herbert, Delma K. Romines, Robert Larkin, Bill Fivaz, Steven Gray, Robert Wilharm, Margaret Wilharm, David Camire, Ricky Morse, David E. Van Gelder, Herbert Hicks, Tom Miller, Ken Potter, Jeffrey Daniher, David Crenshaw, Steven Ritter, Harrington E. Manville and, of course, John Wexler (who - believe it or not - also wrote about planchet and striking errors back in those days)!"
In Book-2, every article and every front cover has been published as presented in the original issues. All dealer or club ads, that appear in multiple issues without changes, are included on their first-time-of-appearance. This allows new collectors in the field an opportunity to learn about the evolution of the hobby and who's who.
These reprint compilations were produced with the newest state-of-the-art copy technology that results in extremely high quality imagery, virtually equal to or better than the originals. This volume is over 250 pages in the large 8-1/2 x 11" format and spiral bound.
Cover price for Book-2 is $24.95
Terms of Sale: Satisfaction guaranteed. 14 days return privileges. All checks must clear bank. Unless otherwise noted, please add $3.20 on all orders; foreign orders add extra. No COD orders accepted. Make checks and money orders payable to and send to: Ken Potter P.O. Box 760232 Lathrup Village, MI 48076-0232 (313)255-8907 E-mail: KPotter256@aol.com.

If you have not yet ordered your copy of Book-1 click below:
How to order Book-1
Numismatist Since 1959 Serving the Collector Since 1973
CONECA's Longest Serving Doubled Die Attributer
To learn more about Error & Variety Coins See:
Ken Potter's Author's Index at Collectors Universe
Member of: ANA CONECA-LM NLG NCADD-FM MSNS-LM NWDCC RCC COINMASTERS LCS WBCC FHBNC CCC BBCC
For a List of Our eBay Auctions please click below:
Our Other eBay Auctions
Visit our Site to View 40+ pages of Numismatic Errors, Varieties, U.S. Coinage Dies, Medals, Silver Art Bars/Rounds and Numismatic Supplies by clicking below:
Ken Potter's Variety Vault
To learn more about Ken Potter click below:
Who is Ken Potter