Ken Potter's Educational Series



As Recorded In Numismatics ...
The 1979-81 American Hostage Crisis In Iran
by Ken Potter - NLG
Jan 2006
© Ken Potter 2006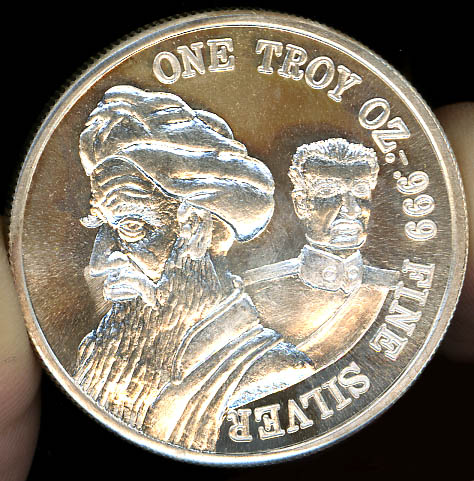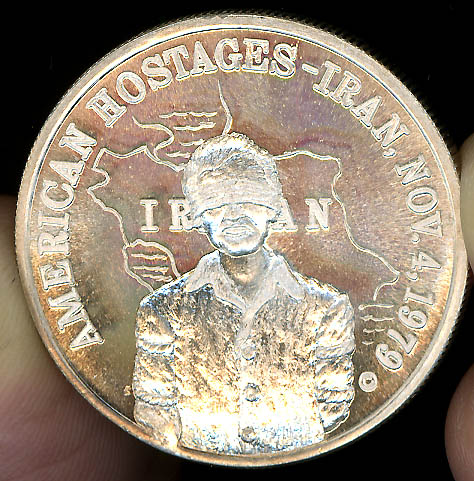 It is interesting how numismatic items we shun in one era can become interesting to us years later. The seldom seen one-ounce silver medal that is the subject of this article is an example of such an item as it relates to this author.
It's a medal that was struck from dies hand-engraved in a rather charming rustic style not often seen today on one-ounce silver medals. It was produced in 1979 or thereabouts to mark the beginning of what was dubbed the "American Hostage Crisis." It began in Iran on November 4 of that year and lasted 444 days. It culminated with the release of all 66 captives representing diplomats and citizens of the United States on January 20, 1981. Fourteen of the 66 were released earlier for various reasons such as race, sex or medical condition.
Though perhaps unwittingly, this silver round also seemingly marks the rise of the first fundamentalist Islamic revolution of modern times by showing its leader, the Ayatollah Ruhollah Khomeini in the foreground, while marking the fall of Western control of that state by showing the fallen Shah of Iran, Reza Pahlavi, in the background. The flip side of this piece shows a blindfolded US captive backdropped by a map of Iran.
This is perhaps the only (or one of very few) numismatic items created to mark this event -- an event believed by many to have caused President Jimmy Carter to lose his re-election bid to Ronald Reagan in 1980.
This is a privately minted 1oz silver medal with die work suggestive of the now defunct California Crown Mint. While it is certainly not rare, its scarcity suggests that the topic was may not have been well received as a "commemorative" and that perhaps many American collectors preferred to not mark the event with a numismatic item in their collection. It was also minted at a time when silver prices were soaring due to the activities of the Hunt brothers who attempted to corner the silver market to drive prices up. With silver prices exceeding the $40.00 mark in this era it is easy to see why many more collectors were selling medals and other silver related items rather than were buying them.
No matter what the cause, what is often shunned in the numismatic marketplace during one era, can become highly sought after in another due to a combination of its scarcity and it representing an interesting historical retrospective on a subject that may have not been popular at the time. This point is perhaps most easily punctuated by the fact that this author was well aware of but ignored this item during the era of its release but found it a delight to find one over 25 years later!
Though there are many web sites that cover the American Hostage Crisis with possibly some of the better ones found at the following links:
http://en.wikipedia.org/wiki/Iran_hostage_crisis
http://www.jimmycarterlibrary.org/documents/hostages.phtml
http://www.jimmycarterlibrary.org/documents/r_ode/index.phtml
http://www.infoplease.com/ce6/history/A0825448.html
Ken Potter
P.O. Box 760232
Lathrup Village, MI 48076-0232
Phone: 1-(313)255-8907 E-mail: KPotter256@aol.com
Numismatist Since 1959 ~ Serving the Collector Since 1973
CONECA's Longest Serving Doubled Die Attributer
Member of: ANA CONECA-LM NLG NCADD-FM MSNS-LM
NWDCC RCC COINMASTERS LCS WBCC BBCC
---

Visit our website to view 40+ pages of Error-Variety Coins, U.S. Defaced Coinage Dies, Medals, Silver Art Bars/Rounds, Numismatic Books & Supplies and an Educational Image Gallery by clicking below:
Ken Potter's Variety Vault



Unless otherwise stated, all Photographic Images are by Ken Potter. Copyright Ken Potter, 1993-2006. Use of images in any manner is strictly prohibited without the express written permission of the copyright holder.

Free counters provided by Andale.