Ken Potter's Educational Series ...

Bahamas 1975-1973 Dual Dated 5-Cent Variety
Obv: 1975 / Rev: "Phantom 1973"
by Ken Potter
September 24, 2004
All photos & text by Ken Potter © Ken Potter 2004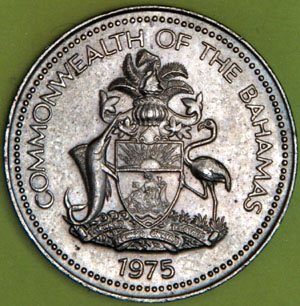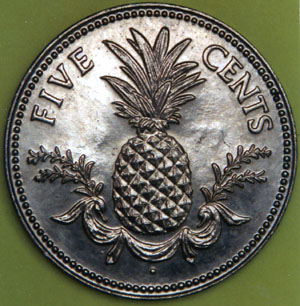 Coin Courtesy of Joe Rizdy
Perhaps one of the more enigmatic modern coins to come down the pike in recent years is the dual-dated 1975-1973 Bahamas five-cent piece sent in by error-variety specialist Joe Rizdy of Chicago. It's a coin that hints at the possibility that it may have just opened up the door for many more varieties of its kind be discovered! It's a coin that comes from a series that along with its other fractional cousins has been largely ignored over the years. That's about to change! There is finally something to look for!
At first glance, this second-year-of-type coin appears to be normal, proudly boasting its nearly-new coat of arms obverse, which displaced Queen Elizabeth II the year before. However, upon a closer inspection of the reverse, we can see faint but obvious traces of another earlier date -- 1973 -- divided by the coin's simple pineapple-reverse motif, the 19 to the left and the 73 to the right. Of course, this is where the date appears on this coin type from 1966 through 1973 while Arnold Machin's portrait of Queen Elizabeth II graces the coin's obverse.
So what have we? A "Mule" or some other sort of error? Quite frankly, we are not ready to refer to it as a mule since a mule is defined as a coin struck from two dies not intended to be paired together. We don't even think it can be called an error! It is however, at least a distant cousin to the overdate, though it cannot be called that either since neither date is "over" the other. For now, we will simply refer to it as a "Dual Date."
If this reverse bore a full, unaltered date, we'd feel confident it was an unintentional emission struck in error and we'd consider it a mule. However, in this case the date is almost completely abraded off of the die. Thus, we must assume that the alteration represents a deliberate economy move to extend the use of old dies to create new coins much in the same way as dies are well-known to have been re-dated by punching a newer date over an older one for the identical reason.
In fact, for the type and Mint involved, it may not even represent a variety. It is quite possible all the coins are from this same die pair!
At first we presumed it to be a Royal Mint strike because there was no clear evidence of it being a Franklin Mint issue. Royal Mint issues bear no Mint mark while those from Franklin Mint bear a stylized FM on the reverse. But on closer inspection we found there to be traces of what might be vestiges of a FM mint mark on this coin (as shown in our larger image of the reverse below). The Franklin Mint Mark may have been effaced from the die during the removal of the date so we cannot completely eliminate either Mint as the source until proven otherwise.
What we need at this point are reader reports on what they are finding on the specimens in their collection. As such, we ask readers to check all their 1975 dated coins of this type to see it they contain the "phantom date" on the reverse. Pay special attention to exactly how it looks as more than one die may have been affected in this manner. Look for differences in the date effacement and vestiges of a possible Franklin Mint mark. Earlier date reverse dies of the KM#3 and KM#17 types may have also been abraded and put into use so look at the reverse of all dates of the KM#60, 1974-1992 dated coins to see if any of them contain "phantom dates" or other abnormalities.
I'd really appreciate hearing from those who do NOT find any of these abnormalities in addition to those that do. Please be as specific as possible, indicating the date and mint mark of the coins your examined and what type of finish they may have (Matte or BU) when applies. (Franklin Mint supplied the business strikes versions of KM#60 in both BU and Matte from 1975 through 1978 with all the BU or "uncirculated" versions assembled in sets.) I'd also appreciate hearing from anybody that has any information on possible design variations between the Franklin Mint and Royal Mint strikes.
Another consideration to bear in mind is that other denominations may have similar dual-dates since all had the dates moved from the reverse to the obverse in 1974 when the Bahamian coat of arms displaced Queen Elizabeth II on the obverse.
A glance at the photos in the Standard Catalog Of World Coins suggests that the 1c, 5c, 10c and 50c pieces, in particular, may have had the dates simply moved from the reverse with no accommodations made to fill the voids. However, reverse design modifications are readily apparent for the 1974 25c, $1.00 and higher denominations that clearly needed their spelled-out denominations reformatted after the dates were removed. These new revere die modifications most probably preclude the extended use of old dies for these denominations BUT it wouldn't hurt to look. The 15c piece from 1974 on, has a dot in the general location of where the date was on the earlier issues so it too may not be a strong candidate for "phantom dates."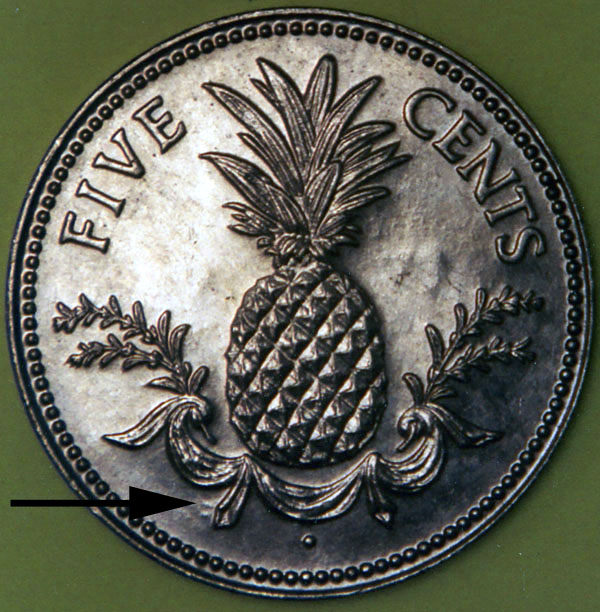 Here is a shot of the subject coin's reverse taken at a special angle to
show what may be the remnants of the Franklin Mint Mark
---
For more information on this item click below:
Send email to: KPotter256@aol.com
---
Ken Potter
P.O. Box 760232
Lathrup Village, MI 48076-0232
Phone: 1-(313)255-8907 E-mail: KPotter256@aol.com
Numismatist Since 1959 ~ Serving the Collector Since 1973
CONECA's Longest Serving Doubled Die Attributer
Member of: ANA-LM CONECA-LM NLG NCADD-FM MSNS-LM
NWDCC RCC WBCC BBCC IASAC
Ken Potter's Variety Vault
Educational Image Gallery
Who Is Ken Potter?
Unless otherwise stated, all Photographic Images are by Ken Potter. Copyright Ken Potter, 1993-2004. Use of images in any manner is strictly prohibited without the express written permission of the copyright holder.

Free counters provided by Andale.