Ken Potter's Educational Series ...

Doubling: Worthless Or Valuable?
A Collectors Guide
by Ken Potter - NLG

Many collectors interested in the area of "die doubling" have trouble distinguishing the various forms of doubling from one another. This includes many forms not considered overly collectable or valuable. Many are "mechanical" in nature and originate during the striking or ejection of the coin while others are the result of die deterioration. They exhibit diagnostics completely different than "collectable" forms of "die doubling" created due to misalignments of images during their impressions into the die. The descriptions and images below should aid in your understanding of these differences.

Click on the thumbnail image to the left to see an enlarged image of the subject. Use your browser back-arrow to return to this page.
Other Forms Of Doubling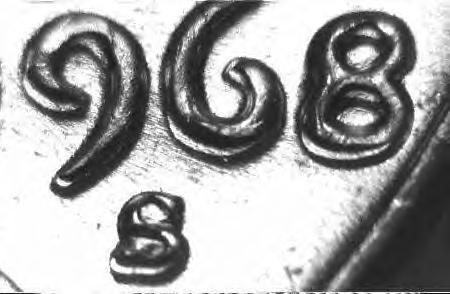 A strong example of "Strike Doubling" (also known as "Machine Doubling Damage" and a number of other terms) on the date of a 1968-S business strike cent. Notice the doubling is formed by the die smashing down and flattening a portion of the main primary image into the field.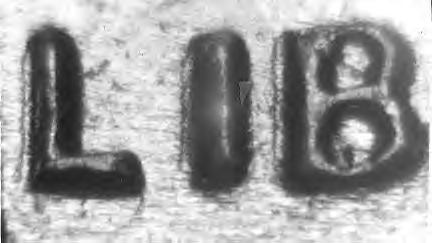 A typical example of "Single Strike - Flat Field Doubling" (a form of "Strike Doubling") on "LIB" of a 1970-S business strike cent. Notice that the main primary image is undisturbed by this type of Strike Doubling.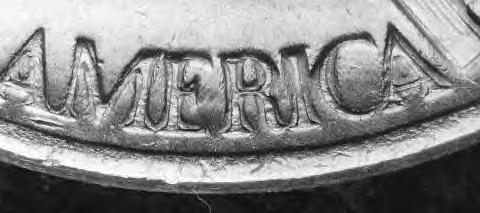 "Die Deterioration Doubling" from worn dies on the reverse of a 1983-D Jefferson 5c.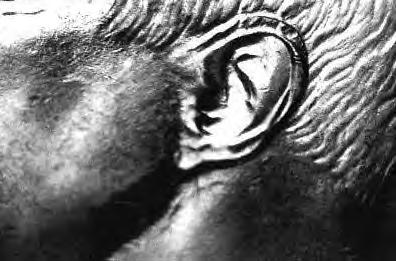 Heavy "Strike Doubling" on the ear of a 1992-D Kennedy half.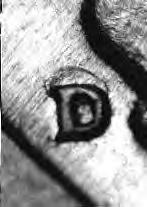 A strong example of "Single Strike - Flat Field Doubling" on the Mint mark of a 1942-D Walking Liberty Half dollar (often confused as being a D over S because of the "rounding effect" caused by FFD).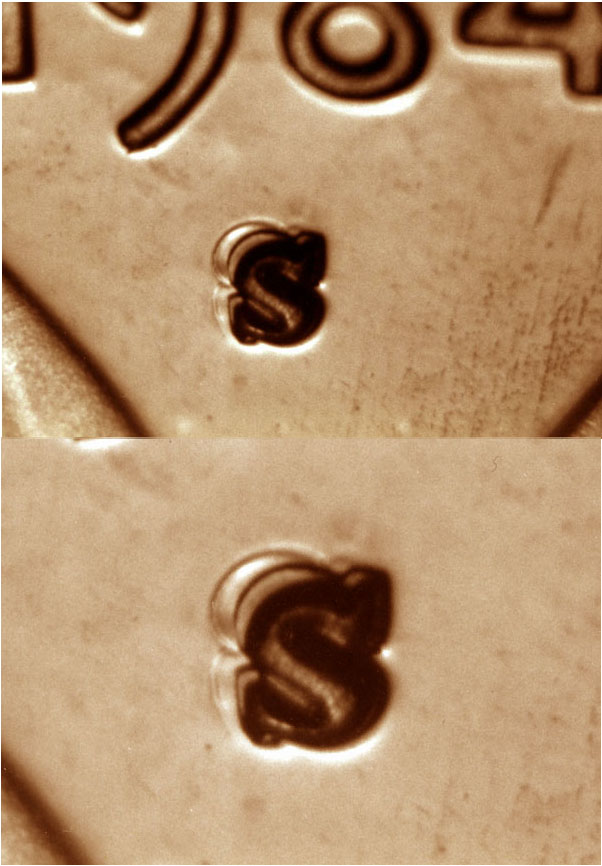 "Double Strike - Flat Field Doubling" on the Mint mark of a 1984-S proof cent (the doubling shows on both strikes resulting in a tripled Mint mark).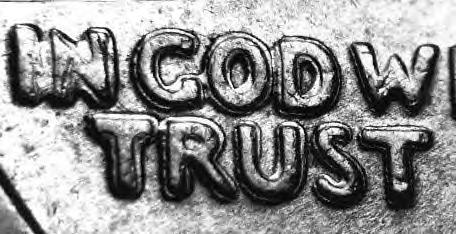 "Die Deterioration Doubling" on the obverse a 1993-P Washington 25c.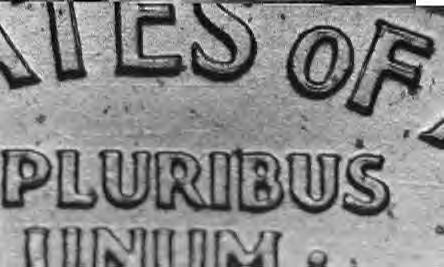 "Ejection Doubling" on the reverse of a 1959 Lincoln cent (shows metal pushed sideways into the lettering and then pulled upwards during ejection).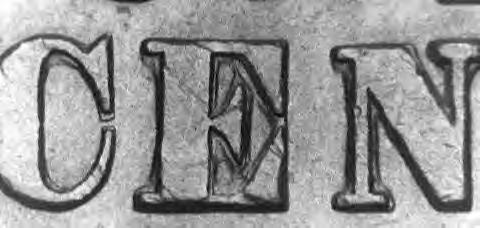 "Hob or Punch Shoulder Outlines" on the reverse of a 1902 Indian Head cent. Often referred to as "Longacre Doubling" though it can be found on coin designs produced my many other designers on coins world-wide.


"Plating Split Doubling" on the Mint mark of a 1993-D Lincoln cent. Very common on the copper plated zinc cents and often mistaken for RPMs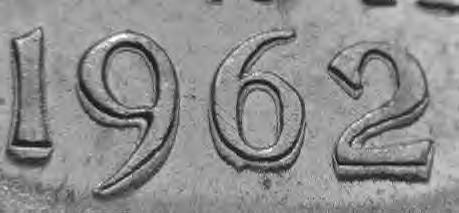 Canadian 1962 5c exhibiting heavy die deterioration doubling as frequently seen on chromium plated dies that have had the plating wear out in the area of greatest stress (in this case - the edges of design where metal flows around corners into the cavities). Photo by KP.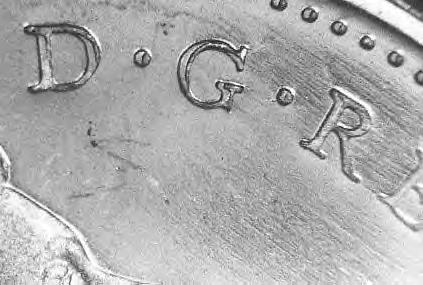 Canadian 1965 10c exhibiting "strike doubling" (machine doubling damage). Photo by Alan Herbert.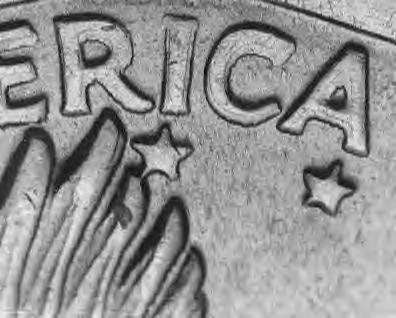 Susan B. Anthony dollar showing die deterioration doubling on reverse lettering. Photo by J.T. Stanton.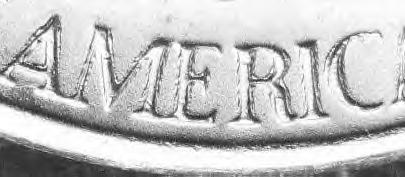 1981-P Jefferson 5c with die deterioration showing on reverse. Photo by J.T. Stanton.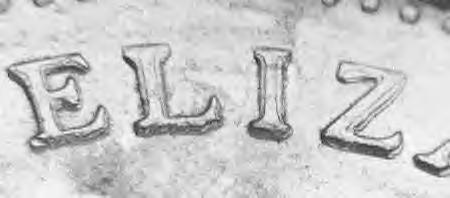 Canadian 1967 5c exhibiting die deterioration doubling and some light strike doubling. Coin courtesy of Karen Rusto. Photo by KP.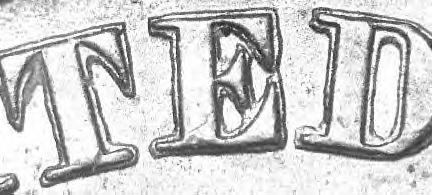 Hob or Punch Shoulder Outlines (so-called "Longacre's Doubling") on the reverse of an 1880 1c. Common on many denominations and coinages of the era, world-wide. Certainly not restricted to James B. Longacre's work. Photo by Alan Herbert.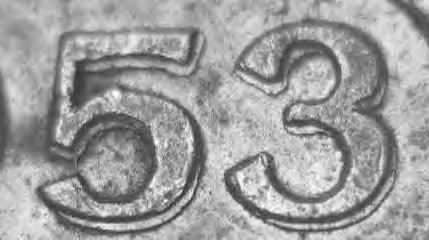 Canadian 1953 1c displaying "strike doubling" (also known as "machine doubling"). Photo by KP.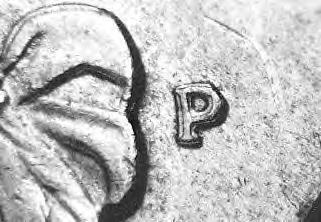 Die deterioration doubling on the Mint mark of a 1993-P 25c (see Series-1 for doubling of IGWT on this coin). Photo by KP.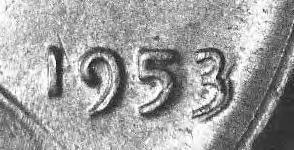 1953 1c with die deterioration doubling evident on the date; esp. on the 3. Often incorrectly referred to as "polish doubling" or "abrasion doubling". Photo by Susan Sisti.

All images produced by Ken Potter are © Ken Potter 1992-2003. Reproduction for non-profit, educational purposes granted but credits must be extended to the photographers.
---
Collectable Forms of Doubling

While this list is not comprehensive, some of the most collectable forms of doubling are represented in the photos and descriptions below. You will notice they all involve the re-entry of a design into the die (through one manufacturing method or another) that results in one image overlapping onto the other. Each image is a entity of its own and not dependant on an earlier image from which to be formed or "smashed down" from, etc. In many cases you will note distinct areas of separation between the images even if only in the finer details such as the serifs of characters. Study the photos below and compare them to the "Other Forms of Doubling" to learn the difference.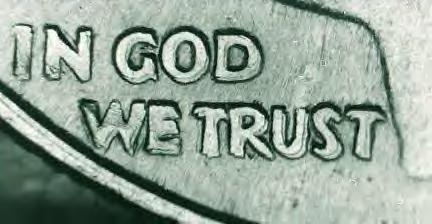 Nice hub doubling showing on IGWT of a 1946 Roosevelt dime. Coin courtesy of W. W. Edwards who first reported discovering the variety back in the mid 1970s.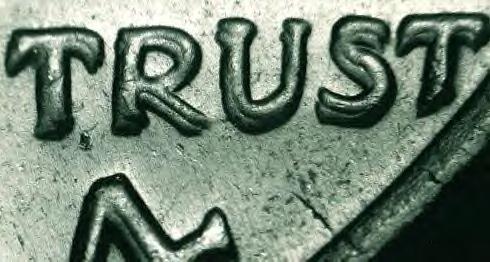 An outstanding example of hub doubling on TRUST found on a 1974-D half dollar. Notice the strong spread and areas of distinct separation.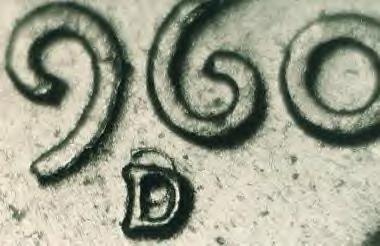 One of my favorite Repunched Mint Mark varieties on a 1960-D Large Date cent. Listed as RPM#13.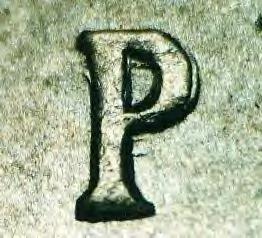 A nice example of a quadruple punched Mint mark on a 1945-P Jefferson war-time nickel. Notice the trace of the lower loop down to the south of the main lower loop and other areas of doubling with separation of images. Coin courtesy of Jerome Goodman. Listed as RPM#45.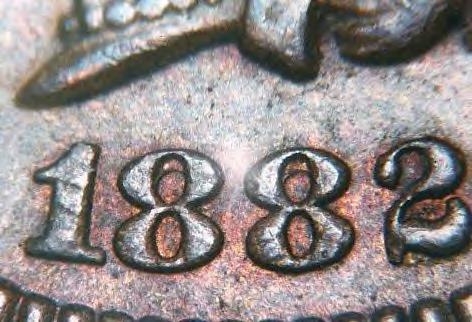 Here's a great example of a Repunched Date on an 1882 Indian Head cent showing as an 88/88 with the tops of the secondary 8s found within the upper loops of the main characters. Coin courtesy of Larry Briggs.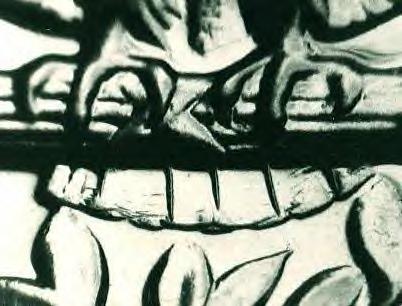 A rare example of "Touch-up Engraving Doubling" on the eagle's tail-feathers on a 1953 proof Washington quarter. Notice that the original feathers were polished down so far that they virtually disappeared. They were crudely re-entered into the die as a series of new tail-feather outlines with distinct overlapping of the old and the new tail-feather outlines most easily viewed at the lower edge. Coin courtesy of Cliff Bolling.

All photos by Ken Potter. © Ken Potter 1992-2003.
---
For more information on this item click below:
Send email to: KPotter256@aol.com
---
Ken Potter
P.O. Box 760232
Lathrup Village, MI 48076-0232
Phone: 1-(313)255-8907 E-mail: KPotter256@aol.com
Numismatist Since 1959 ~ Serving the Collector Since 1973
CONECA's Longest Serving Doubled Die Attributer
Member of: ANA CONECA-LM NLG NCADD-FM MSNS-LM
NWDCC RCC COINMASTERS LCS WBCC BBCC

Free counters provided by Andale.
Unless otherwise stated, all Photographic Images are by Ken Potter. Copyright Ken Potter, 1993, 1994, 1995, 1996, 1997, 1998, 1999, 2000, 2001, 2002. Use of images in any manner is strictly prohibited without the express written permission of the copyright holder.