Ken Potter's Educational Series ...
Two-Headed Coins
What they are - and what they are not!
by Ken Potter -- NLG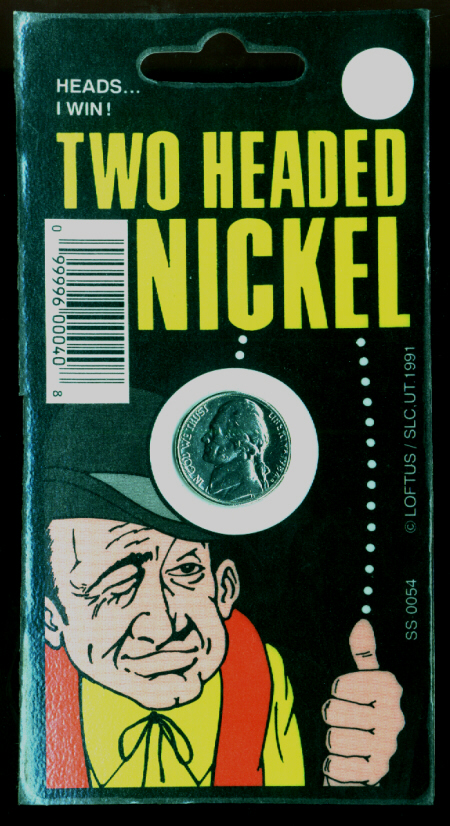 Above is an image of a so-called two-headed nickel
still sealed in the blister-pack card that it was marketed in.
Photo © Ken Potter 2003
Without a doubt the most frequent question that we receive is about two-headed or two-tailed coins. There are occasional variations to the theme such as a Kennedy half dollar mated with a Mexican 20-centavos reverse or a Lincoln cent mated with a Roosevelt ten-cent reverse or a dime mated with a foreign coin reverse, etc., that are all related. What we say here will most often apply to them also.
We tackled this subject several years ago and published it on the Collectors Universe web site which is now owned by PCGS. When that article was published there were no Mint-made two-headed or two-tailed coins known and the information we provided stating such was 100% accurate.
However, since that time a couple of Mint-made specimens have been reported. They were allegedly found in a safe-deposit-box that was rented by a former Mint employee who's estate was sold by the State of California.
I personally examined one of the pieces prior to it being sealed in in a certification "slab" and found it to be genuine. So far, both pieces have both been declared genuine by either of the two top grading/authentication services in the country (PCGS & NGC) and have yet to elicit the concern of the government in regard to how they escaped the Mint.
We note of these facts so that folks that have found a two-headed or two-tailed coin, and who have heard that others exist that have been authenticated as genuine, know that this is in fact true.
However, they should know that a "genuine" piece has never been proven found in circulation, and more importantly, they should know that tens-of-thousands of faked double-headed and double-tailed (and other similar mismatched concoctions) have been made from genuine coins altered by machine shops after the coins left the Mint. These have been offered for sale by novelty concerns like magic shops and through ads in comic books for decades for prices starting at about $3 or $4 for cents up to about $8 or $10 on half dollar coins. Many of these get into circulation quite innocently and are later found by unsuspecting collectors who think they found rare Mint errors! Such is not the case!
To read more about the specifics of these alterations go here: Two Headed Coin Unlucky for Some
Ken Potter
Phone: 1-(313)-268-3280
E-mail: KPotter256@aol.com
Numismatist Since 1959 ~ Serving the Collector Since 1973
CONECA's Longest Serving Doubled Die Attributer
Member of: ANA-LM CONECA-HLM NLG NCADD-FM MSNS-HLM
NWDCC RCC WBCC HVNS IASAC
---

Visit our website to view 40+ pages of Error-Variety Coins, U.S. Defaced Coinage Dies, Medals, Silver Art Bars/Rounds, Numismatic Books & Supplies and an Educational Image Gallery by clicking below:
Ken Potter's Variety Vault

Unless otherwise stated, all Photographic Images are by Ken Potter. Copyright Ken Potter, 1993, 1994, 1995, 1996, 1997, 1998, 1999, 2000, 2001. Use of images in any manner is strictly prohibited without the express written permission of the copyright holder.

Free counters provided by Andale.