---
Selections from
The Variety Coin Register®
The 1994 Doubled Die Reverse
"Extra Columns Within"
Lincoln Cent
by Ken Potter, NLG
All photos and text © Ken Potter 1999-2001
Revised December 28. 2003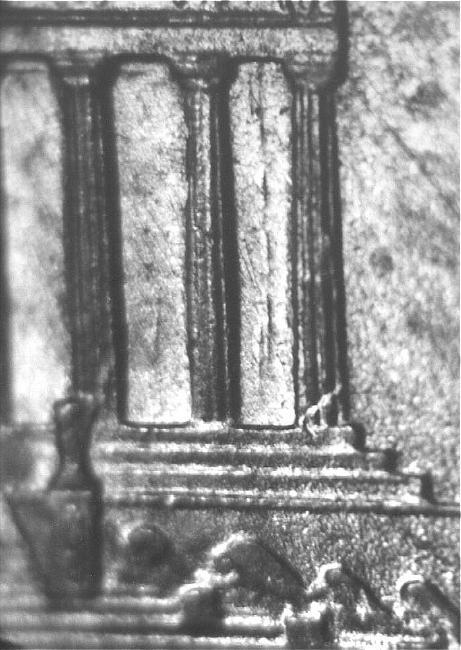 VCR#1/DDR#1
Variety Coin Register Number: VCR#1/DDR#1: Shows very wide doubling on the reverse primarily affecting columns on the right side of the Memorial Building where it is most evident as remnants of "extra columns" between the columns of the last two bays. This one is now listed in The Cherrypickers' Guide to Rare Die Varieties - 4th Edition - Part 1 by Bill Fivaz and J.T. Stanton as FS#1c-039.9. While the CPG lists the coin with a value of $100 in MS65 it actually sells at that level (and even higher) in circulated grades. We estimate average uncirculated pieces (MS63) at a value of about $250.00. Coin submitted by Richard Rybicki 1999.
Cross References: Cherrypickers' Guide: FS#1c-039.9, CONECA: DDR-001 (1-R-IV), Wexler: DDR-001.
Cause: This variety is the result of a limited pressure off set hub doubled die. The first impression was sunk into the die blank with less than average pressure resulting in portions of the fluting of at least two columns of the Memorial Building being impressed into the die to the left of the later primary images. Since the first impression was less complete than average, fully formed alignment slots may not have formed and it is probable that indexing the hub to the die for a later impression, (to strengthen the design), would have been difficult. The result was improperly indexed hub/dies with an off set of the primary image shifted to the east of the earlier impressions.
See Part-2 Of This Article Here
Ken Potter is the official attributer and lister of world doubled dies for the Combined Organizations of Numismatic Error Collectors of America and for the National Collector's Association of Die Doubling. He privately lists U.S. doubled dies and other collectable variety types on both U.S. and world coins in the Variety Coin Register.
Click below to visit (and bookmark) our homepage
Ken Potter's Variety Vault



Free counters provided by Honesty.com.