2001 Lincoln Cent
Error
Double Struck "You Name It?"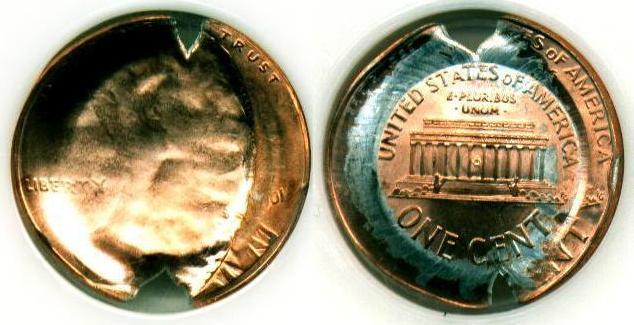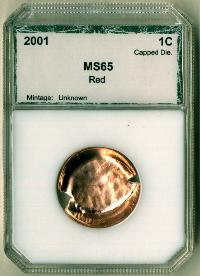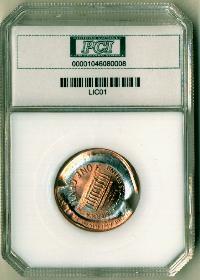 ---



Pay me securely with any major credit card through PayPal!

Postage/Handling/Insurance: Unless otherwise noted, please add $2.95 for postage/handling/insurance on all coin & jewelry orders (including art bars, medals, rounds, defaced coinage dies, hobby memorabilia, jewelry items, etc.); add $3.50 for the first book ordered, (except on any of Walter Breen's Encyclopedias -- add $5.00 due to excessive weight), plus $1.00 per additional book ordered thereafter (not to exceed $6.50), add $3.50 to all supply orders. Multiple eBay auction lots for coins (or other hobby/ jewelry items) may be grouped together to arrive at a single postage rate at no additional shipping charges beyond that of the first auction, with the exception of any lot(s) that sell for under $7.00. Such lots (selling for under $7) may also be combined into the total but should have $1.50 per lot added to the total combined shipping cost. To illustrate, the shipping fees on three won eBay auctions for coins selling at: $24.95, $12.95 and $5.00 would be calculated as follows: $2.95+$.00+$1.50=$4.45, while shipping fees on won eBay auctions for coins selling at $12.95+$12.95+$12.95 would be calculated as follows: $2.95+$.00+$.00=$2.95. As they are shipped separately of one another, please calculate coin, book and supply orders separately to arrive at your total postage costs.
Foreign orders cost more to ship. See the "fine print" below.
Terms of Sale: Satisfaction guaranteed! 14 days return privileges for items in original untampered holders -- no questions asked with 100% of the price charged refunded less our actual cost to ship the item(s) or postal charges collected (whichever is higher), plus a $3 processing fee for returned items purchased via eBay or other auctions. Note that proof sets or other Mint products ordered "Mint Sealed" or in otherwise unopened packaging are not returnable for any reason. You always have the option of us opening such packaging and inspecting the contents for you to assure quality before we ship. Such items are returnable as per the above terms.
Methods Of Shipment: We ship via USPS to either a home/office address or post office box. Due to their weight and high cost to ship by other means, Books are shipped via 4th Class "Media Mail" unless other arrangements are made. Fourth Class mail may take up to four weeks for delivery but normally arrives to it's destination within a week.
Methods Of Payment: No COD orders accepted. Credit Cards not accepted except through PayPal. Make checks and money orders payable to Ken Potter. PayPal payments should be directed to our account under the email address of: kpotter256@aol.com. All checks must clear bank. We allow 7 business days for in-state checks, 10 business days for out-of-state check and 14 business days during/around holidays (scam artists increase their activities around holidays when they know processing in some financial institutions and post offices becomes delayed. A few "bad apples" make it bad on everybody).
Treatment Of Technical Information: Bidders in our auctions may notice that we often provide detailed information about our products. When possible we try to identify the issuing entity, date-of-issue, brief historical data, possible rarity, etc. We include this so that you are better informed on the items you are ordering or bidding on. Mintage and production numbers (or estimates thereof) and other technical specifications given for coins and other collectibles are taken from standard references, Mint reports, certificates of authenticity, promotional material, direct conversations with manufacturers/distributors, etc. The information provided is given in good faith and presumed to be the most accurate estimates available. However we can not be responsible for errors found within these sources. Thus all sales are final after the 14 day return period even in the rare instance of technical data given later found to be flawed.
Please click here > Fine Print< to read the balance of our terms of sale. It contains information on foreign orders, the average length of time it takes for us to fill orders, how to make an inquiry, a note to PayPal customers, etc. We ask that this section to our Terms of Sale be read before you order from our website or bid in any of our auctions.
Ordering or bidding in our auctions constitutes acknowledgment that you have read and agreed to all of the terms outlined above and in the "fine print."
Ken Potter
P.O. Box 760232
Lathrup Village, MI 48076-0232
Phone: 1-(313)255-8907 E-mail: KPotter256@aol.com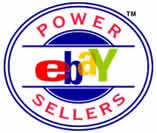 Numismatist Since 1959 ~ Serving the Collector Since 1973
CONECA's Longest Serving Doubled Die Attributer
Member of: ANA CONECA-LM NLG NCADD-FM MSNS-LM
NWDCC RCC COINMASTERS LCS WBCC BBCC
---
See Our Other eBay Auctions
Every lot is fully illustrated
Our eBay Auctions

Notice to Mints and Their Agents: Please note that we are always interested in purchasing unusual items that were not previously released or widely distributed that are of low mintage such as: Presentation Pieces, Trial Strikes, Set Up Coins, Salesman's Samples, Error Coins, Pattern Coins, Lead Trials, Off Metals (deliberate or in error), Mules, Overruns, Plasters, Significant Art, Working Dies and/or Master Tools. If you have anything unusual with a low mintage and wish to clear your vaults it will pay you to contact us.
Unless otherwise stated, all Photographic Images are by Ken Potter. Copyright Ken Potter, 1993, 1994, 1995, 1996, 1997, 1998, 1999, 2000, 2001, 2002. Use of images in any manner is strictly prohibited without the express written permission of the copyright holder.