Ken Potter's Educational Series ...

1984 Doubled Die Obverse
"Double Ear"
by Ken Potter
Copyright 2004
Coin Courtesy Of Mark Longas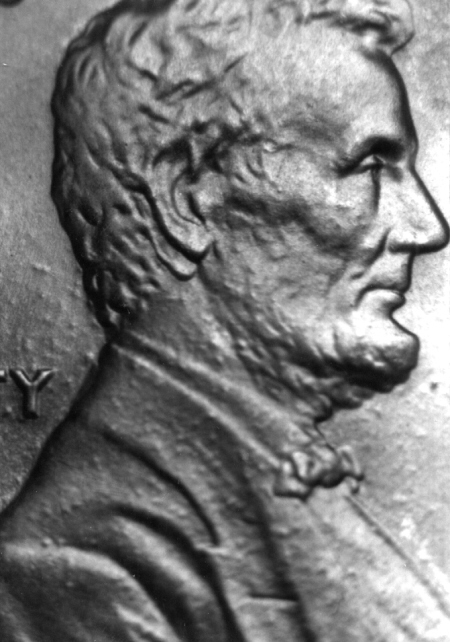 Photo © Ken Potter 1995 / May not be used without the express written permission of the copyright holder

Listing Numbers:

Potter: VCR#1/DDO#1, CONECA: DDO-001, Wexler: WDDO-001, Cherrypickers' Guide: FS#1c-037, Breen# 2314.

Description: Extremely strong doubling most easily seen on Lincoln's earlobe south of the primary ear. Doubling is also found on the beard, bow tie and collar. While often missed in the descriptions of many researchers, the widest doubling on this coin is actually not on the ear at all but on the bow tie. The tip of a secondary image of the bow tie, from the right side of the bow tie (viewer's left), is totally separated and protruding out from under a fold in the lapel of Lincoln's jacket, SW of the normal bow tie. It is but a shadow in the image shown here.
This variety is listed in A Guide Book Of United States Coins by R. S. Yeoman where it has been erroneously illustrated by the wrong photo; that of a 1997 Doubled Die variety (which also has doubled ear) -- for at least one or two years.

Other Comments: This coin shows a perfect example of what plating blisters (or pimples) look like on a modern copper plated zinc cent.
---
For more information on this item click below:
Send email to: KPotter256@aol.com
---
Ken Potter
P.O. Box 760232
Lathrup Village, MI 48076-0232
Phone: 1-(313)255-8907 E-mail: KPotter256@aol.com
Numismatist Since 1959 ~ Serving the Collector Since 1973
CONECA's Longest Serving Doubled Die Attributer
Member of: ANA CONECA-LM NLG NCADD-FM MSNS-LM
NWDCC RCC COINMASTERS LCS WBCC BBCC
Ken Potter's Variety Vault
Educational Image Gallery
Who Is Ken Potter?
Unless otherwise stated, all Photographic Images are by Ken Potter. Copyright Ken Potter, 1993, 1994, 1995, 1996, 1997, 1998, 1999, 2000, 2001, 2002. Use of images in any manner is strictly prohibited without the express written permission of the copyright holder.

Free counters provided by Andale.