Selections from The Variety Coin Register ®

1997 Doubled Die Cent
"Doubled Ear"

Copyright Ken Potter 2002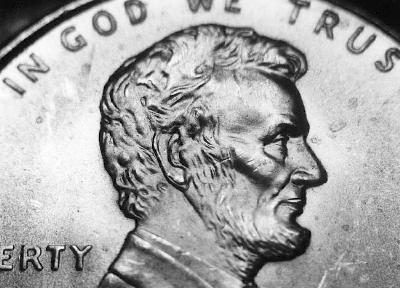 View of Lincoln Profile With Double Ear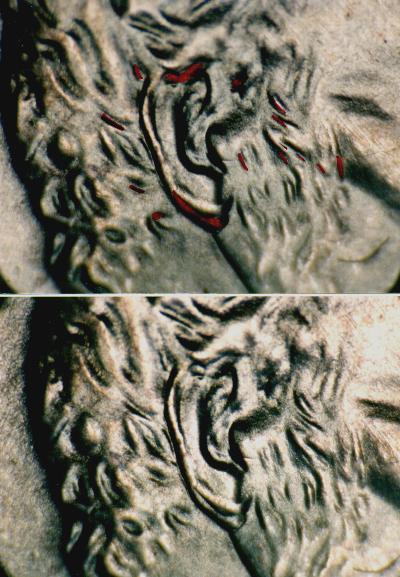 Shown above are two views of the same photo of the 1997 "Double Ear" cent variety.
The top view displays all the areas of doubling highlighted in red.
The lower image shows the same image unobstructed by the highlight.
---
Subject: 1997 1c Doubled Die Obverse
Variety Coin Register Number: VCR#1/DDO#1
Cross References: CONECA-DD0-001, Wexler-DD0-001, FS#1c-043
Description: This Doubled Die Obverse, often nicknamed the "Doubled Ear," displays strong doubling of the curl of hair above Lincoln's ear and ear lobe; less obvious doubling shows on the lock of hair in front of upper ear and throughout other areas of the hair (doubling shows in a total of 15 areas).
The cause is most likely due to a tilted die blank seating itself into proper position during the hubbing process -- a condition that has been confirmed as occurring by Mint workers with hands-on experience at both the Philadelphia and Denver Mints. One Mint worker described the action of a tilted die seating itself properly during a hubbing as having a distinctive "clunking sound" -- a familiar ring to anybody who has spent considerable time operating presses set up for stamping operations where the work-piece may be loaded off-location but forced into position by the upper die during a cycle (a sound this author has heard hundreds of times during his stint as a press operator).
Submitted by: Larry Philbrick 11/97; later discovery submitted by Bill O'Rourke and Debbie Lehman on 2/23/98 10 miles from Hershey, PA.
For more information on this item click below:
Send email to: KPotter256@aol.com
---
Ken Potter
P.O. Box 760232
Lathrup Village, MI 48076-0232
Phone: 1-(313)255-8907 E-mail: KPotter256@aol.com
Numismatist Since 1959 ~ Serving the Collector Since 1973
CONECA's Longest Serving Doubled Die Attributer
Member of: ANA CONECA-LM NLG NCADD-FM MSNS-LM
NWDCC RCC COINMASTERS LCS WBCC BBCC

Click below to visit (and bookmark) our homepage for a complete and updated index of links to our webpages of:
Error-Variety Coins, U.S. Defaced Coinage Dies, Medals-Silver Art Bars-Rounds, Books & Numismatic Supplies, an Educational Image Gallery, Book-of-the-Month Specials, Our Favorite Links & Article Index Page, and all future pages:
Ken Potter's Variety Vault

Or Click below to visit the specific page that interests you:
Books & Supplies
Error-Variety Coins
Rare-Coin-Reproductions
Defaced U.S. Coinage Dies
Bars-Medals-Rounds & Other Exonumia
Educational Image Gallery
Who Is Ken Potter?

To subscribe to our Free Newsletters
(by simply requesting them) click below (request: Error-VarietyNewsletter, ReproNews, and/or Bars-Medals-RoundsUpdateNews):
Send email to: KPotter256@aol.com

For a List of Our eBay Auctions please click below:
Our eBay Auctions
Unless otherwise stated, all Photographic Images are by Ken Potter. Copyright Ken Potter, 1993, 1994, 1995, 1996, 1997, 1998, 1999, 2000, 2001, 2002. Use of images in any manner is strictly prohibited without the express written permission of the copyright holder.

Free counters provided by Andale.