Celebrating Over 50 Years In Numismatics!
Ken Potter
2010 inductee into the
CONECA Hall of Fame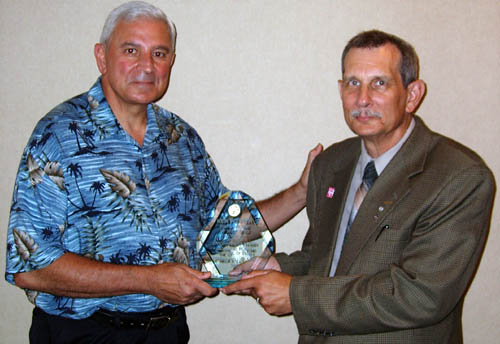 Ken Potter (right) receiving award from CONECA Secretary, Al Raddi
Error-Variety coin specialist, Ken Potter, was inducted into the Combined Organizations of Numismatic Error Collectors of America's Hall Of Fame at the American Numismatic Association's World's Fair Of Money this year in August. He is the ninth individual to receive this honor since CONECA was founded in 1983.

Potter is 59 years old and began collecting coins in 1959 when the reverse of the Lincoln cent was changed from the wheat-back to the now familiar Lincoln Memorial design. He notes that he dabbled in variety and error coins almost from the very beginning of his collecting interests and began specializing in that field in 1979 when he discovered a new variety on a Canadian dollar that made front page news in the Canadian numismatic press (and in stories carried by Numismatic News, Coin World and Error-Variety News).

In addition to being a contributor to many books, columns and articles by others, he is a prolific author and photographer with regularly featured columns and feature articles in Numismatic News, Coin World, World Coin News, Canadian Coin News, The National Collectors of Die Doubling's journal, The Hub; CONECA's Errorscope, CONECA's Website and the Michigan State Numismatic Society's, Mich-Matist " He is the current editor of Bill Fivaz and JT Stanton's, Cherrypickers' Guide To Rare Die Varieties and edited the seventh edition of Alan Herbert's, Official Price Guide To Mint Errors in 2007. He has also penned numerous feature articles over the years for other publications.

In August of 2004, the Numismatic Literary Guild named Potter as the author of the best article (or series or articles) on coins to appear in a Numismatic Newspaper (in 2003) for his "Spiked Head" die cracks on modern Proof coins series that appeared in Numismatic News and again for the Best Spot News Story or Continuing Coverage of Developing Story in Numismatics in 2008 for his series on "Presidential Dollar Error Coinage" appearing in Numismatic News in 2007.

NLG presented him and coauthor Brian Allen with an award of Extraordinary Merit, for the first edition their book, Strike It Rich With Pocket Change in 2007, which is now in its second edition.

He is a member in good standing in NLG, a charter life member of CONECA, a founding member of NCADD, a life member of the ANA, an honorary life membership in the Michigan State Numismatic Society, a member of Northwest Detroit Coin Club for over 25 years, and holds memberships in the Worldwide Bimetallic Coin Club and the International Association Of Silver Art Collectors. He's served on CONECA's Board of Directors in various positions for many years and is currently on his fourth consecutive term in the Webmaster position.

He is CONECA's longest serving doubled die attributer (unofficially since 1981 and officially since 1985). He's also the official attributer of world die varieties for NCADD.
Past CONECA Awards include the Lyndon King Award in 2003, second place Research Literary Award in 1986, Lonesome John Best Photography Awards in 1999, 2002 and 2003, Kenny Knapp Membership Awards on several occasions, Most Unusual Error Award at Errorama 1986 and an Outstanding Service To CONECA Award in 1986.

He has conducted numerous slide show and question and answer seminars on minting varieties and errors for coin clubs, schools, libraries and treasure hunting clubs for over 25 years.

He was employed by Chrysler's Sterling Stamping plant where he retired from the quality control department after 34 years of service to the company in 2008. He was named "Employee Of The Year" by that plant in 2001. He continues to operate his mail order coin business that he started in 1973.

Other interests include, fishing, the outdoors, aquariums, music, computers and spending time with his daughter Anna, son Robert and wife, Kim.