---
U.S. Mint Strikes Two Varieties for
1998. 1999 & 2000 Lincoln Cent Reverse!
Scarce Business Strike Variety
Found With Proof Style Reverse
Updated 06/13/09
---
Very Scarce To Rare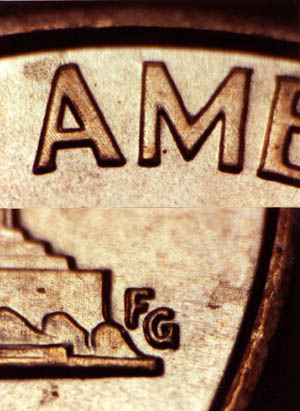 Type-2 Proof Style Wide AM Reverse
---
In John Wexler's front page Coin World story of January 22, 2001 he reported the discovery of a 2000 dated business strike Lincoln Cent struck with a proof style reverse die. Shortly after his announcement the same variety was found on 1998 dated cents (See Randy Camper's February 5th front page Coin World story). Quite a bit later this variety was discovered on a 1999 dated cent! As noted by Wexler, since 1993, the reverse dies for the Lincoln Cent have bore noticeable differences between the dies used for general business strikes and those prepared for special proof coinage. In fact, in our Coin World VIP tour of the Philadelphia Mint, (that Wexler and I attended in 1998), a Mint spokesman noted that the dies for proof cents were different from business strike dies, with special enhancements of the proof dies implemented for cosmetic reasons. It was obvious that the proof style dies were never intended to be used for business strike coinage.
So far, finds of Ty-2 variety for both dates have proven to be very few and far between with the 1998 appearing many times scarcer than the 2000. A search of current and completed eBay auctions (as of 5/01/01) seems to imply that the 1998 may be very scarce to rare since a number of 2000 dated specimens have been offered while I can find no offers of the 1998! 1999 specimens appear to be exceedingly rare!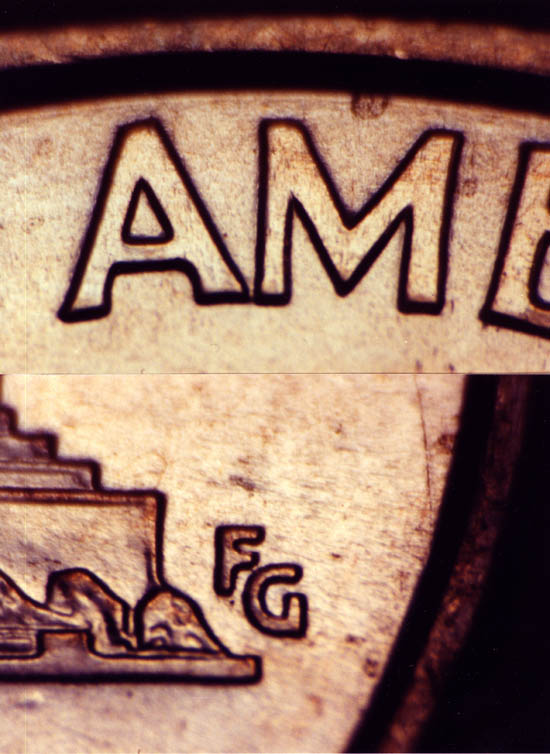 Type 1 Regular Business Strike Reverse
Type 1: On this regular business strike variety (Ty-1) the letters AM of AMERICA are close together and almost touching; the designer's initials, FG, at the right side of the base of the Memorial Building are spaced well away from the building.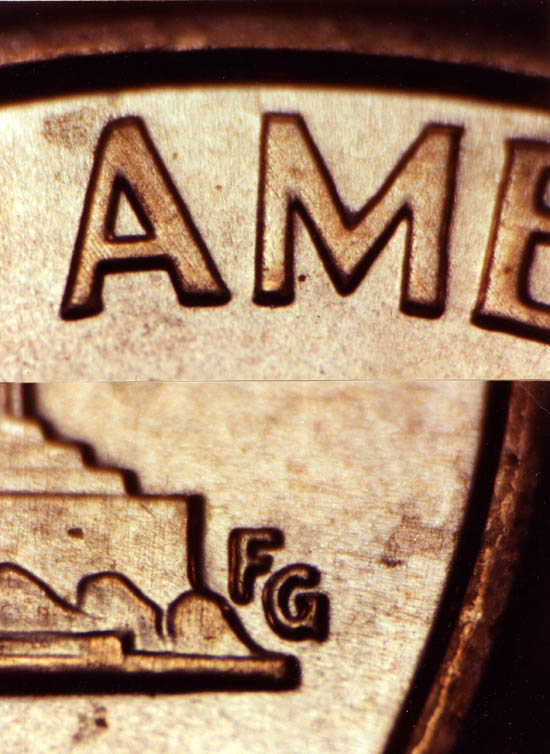 Type 2 Proof Style Reverse
Type 2: On this business strike with proof style reverse (Ty-2) the letters AM of AMERICA are spaced significantly further apart than on the the Ty-1; the designer's initials, FG, are close to the base of the Memorial Building. This issue is very scarce on both 1998 and 2000 dated cents.
---
We offer Full Red Ty-2 cents as follows:
1998 Type-2 (Wide AM Rev):
MS63 RD - $35, MS64 - $45 MS65 RD - $55, MS66 RD - $75.00
Special
ANACS Graded 1998 Ty-2 Pieces
We have a small batch of this variety (26 pcs) that I purchased as AU that were picked from circulation by a number of different searchers that supplied them to me over the past few years. I submitted all at one time to ANACS and they came back with grades ranging from AU to MS62.
Note: All that are graded Mint State are noted as Red & Brown -- There are No Reds!
Because they are all AU or otherwise
Red & Brown, we will sell them at $27 ea or 4 for $99 until gone!
---
1998 Type-2 (Wide AM Rev)
w/"Phantom D" Mintmark*:
MS63 RD - $45, MS64 RD - $55
---

This Is The RARE ONE!!!
1999 Type-2 (Wide AM Rev):
MS63 RD - $425, MS64 RD - $495, MS65 RD - $650
The supply of these is very limited!

Fewer than 300 known in all grades!

Only two small hoards have been found in
the four+ years the variety has been known!

We have owned the majority of them at one time or another
including the majority now certified by all grading services!

The last small hoard to be found was spit between two dealers;
we paid a premium price to get the best grades in our half of the split!

Now You Know Where To Get The Best Grades!
---
2000 Type-2 (Wide AM Rev):
MS63 RD - $25, MS64 RD - $35, MS65 RD - $45, MS66 RD - $49.95
ICG-64 - $42.50, ICG-65 - $49.95, ICG-66 $55.00
ANACS-64 RD $45.00, ANACS-65 RD $55.00.
Above prices supercede all others and are effective as of 04/09
---
*Some of the 1998 pieces offered here also exhibit the so-called "Phantom D" Mint Mark; slight traces of the Denver Mint Mark that were left on the the 1998 Lincoln cent master hub, modified for use as a Philadelphia hub. The so-called "Phantom D" variety was created by the Mint by grinding the Denver Mint Mark off the master hub and then using it to produce a master die for Philadelphia cent die production. Traces of the D remained on the master hub and were transferred to the master die and then to working hubs and further on to working dies. In general, the "Phantom D" wore off the tooling in short order and thus only shows on coins produced from earlier stages of the Philadelphia cent tooling. We make note of them here for those that are interested in acquiring one with the Type 2 reverse.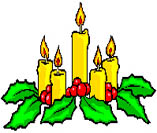 Pay me securely with any major credit card through PayPal!

Persons wanting to call to use a credit card by phone may do
so at either of the numbers listed below:
Home Office Phone: (313)255-8907 (preferred)
Cell Phone: (313) 268-3280 (best if nobody answers

How to order: Please send an email to KPotter256@aol.com (or call -- see below) indicating which items are of interest and I will set them to the side for you and confirm their availability via return email. You may also call to check on the availability of items at the number listed below. You may also order without seeking confirmation of availability but you run the risk of some items being sold out. In this case a full refund will be issued for any sold out items. You may pay by check or money order. I also accept VISA and MasterCard though PayPal. Click on the PayPal logo above to get to PayPal. My email address (kpotter256@aol.com) is my "account number" at PayPal. PayPal is highly recommended, as it allows you to use a credit card without sharing your credit card information over the Internet with many dealers or going through the trouble of making many calls to assure the security of your credit card information. Persons wanting to call to use a credit card may do so at either of the phone numbers listed below.
Postage/Handling/Insurance: Unless otherwise noted, please add $3.99 for postage/handling/insurance on all coin and book orders, add $4.50 to all supply orders. $4.50 to all supply orders. $4.50 to all supply orders. $4.50 to all supply orders. $4.50 to all supply orders. All payments must be made in US funds. As they are shipped separately of one another, please calculate coin, book and supply orders separately to arrive at your total postage costs. We insure via Private-Courier Services™ (for lower valued packages) or the United States Postal Service -- vendor of our choice. Foreign orders cost more to ship; please contact us for an estimate of those costs before bidding.
Terms of Sale: Satisfaction guaranteed! 14 days return privileges for items in original untampered holders -- no questions asked with 100% of the price charged refunded less our actual cost to ship the item(s) or postal charges collected (whichever is higher). Note that proof sets or other Mint products ordered "Mint Sealed" or in otherwise unopened packaging are not returnable for any reason. You always have the option of us opening such packaging and inspecting the contents for you to assure quality before we ship. Such items are returnable as per the above terms. To see a detailed explanation of our policies on Tracking Service Options, Foreign Orders, Terms of Sale, Methods of Shipment (including optional shipment services available), Time of Shipments, Methods of Payment Accepted, Treatment of Technical Information Supplied, How to Make an Inquiry, etc., check here: "Fine Print."
Note: The terms of sale on this page are the most up to date possible and supercede any others that may be out-of-date on other pages
Ken Potter
P.O. Box 760232
Lathrup Village, MI 48076-0232
Home Office Phone: (313)255-8907
Cell Phone: (313) 268-3280
E-mail: KPotter256@aol.com


Numismatist Since 1959 ~ Serving The Collector Since 1973
CONECA's Longest Serving Doubled Die Attributer
Member of: ANA, CONECA-LM, NLG, NCADD-FM, IASAC, MSNS-HLM
NWDCC, RCC, WBCC, BBCC
---
Notice to Mints and Their Agents: Please note that we are always interested in purchasing unusual items that were not previously released or widely distributed that are of low mintage such as: Presentation Pieces, Trial Strikes, Set Up Coins, Salesman's Samples, Error Coins, Pattern Coins, Lead Trials, Off Metals (deliberate or in error), Mules, Overruns, Plasters, Significant Art, Working Dies and/or Master Tools. If you have anything unusual with a low mintage and wish to clear your vaults it will pay you to contact us.

Unless otherwise stated, all Photographic Images are by Ken Potter. Copyright Ken Potter, 1991-2006. Use of images in any manner is strictly prohibited without the express written permission of the copyright holder.

Free counters provided by Honesty.com.