Ken Potter's Educational Series ...

2003 "Wavy Steps" Cents
Confirmed As Doubled Dies!
by Ken Potter - NLG
December 29, 2003
The original article on this topic that occupied this URL
has been moved to: 2003 Cents w/Wavy Steps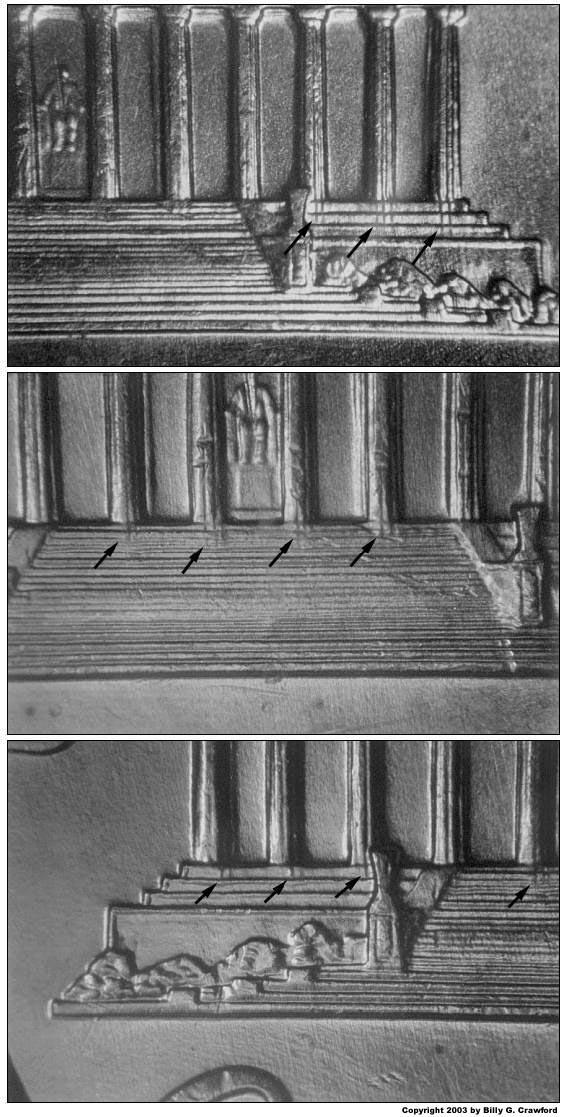 Here is the strongest example found by Billy Crawford.
We have it listed as VCR#3/DDR#3
In our September 20, 2003 Education Image Gallery article we made note of a report that came in from variety coin specialists Harold Kuykendall of Virginia describing a 2003 Lincoln cent with "wavy steps" that he suggested was similar to the effect on the steps on a 1994 doubled die reverse Lincoln cent listings (which we have listed as: 1994 1c VCR#2/DDR#2).*
We suggested in that article that we did not know the exact cause of the waviness of the steps but we drew comparisons of it to that of the 1994 doubled die reverse cent, alluding to the fact that it might be a doubled die due to similar causes.
Our hope was that the article would spark an interest and prompt others to find more specimens and perhaps stronger die states that would help us pin down exactly what the variety represented.
To that effect, came along variety coin specialist, Billy Crawford, who went about the business of searching out more specimens and successfully finding them in several die states, including a nice crisp, clear early die state. As we had hoped -- his early die state coin exhibited tell-tale signs confirming what we could only suspect as a "possible cause" previously. The EDS specimen found by Crawford showed ALL the attributes of the 1994 doubled die cent! It was clear that if the 1994 doubled die cent was indeed a doubled die, (which all recognized doubled die attributers who had examined the variety, agree to), then this one had to be a doubled die too!
However, there is a problem in that the 1994 cent was produced within an era of multiple-squeeze hubbings (where occurrences of hub doubling were inherent to the process), while the 2003 was not. The 2003 cent with doubled reverse was produced during the single-squeeze era which technically began experimentally in the US Mint in 1985 and was fully implemented on one-cent and five-cent production in 1997 and the balance of denominations in 1998.
After 1998 everything except high-relief Mint medals was to be made via the single-squeeze process! According to reports from upper-level Mint officials -- "hub doubling" could not occur within this process. So just what is it? Our position is that it is a doubled die!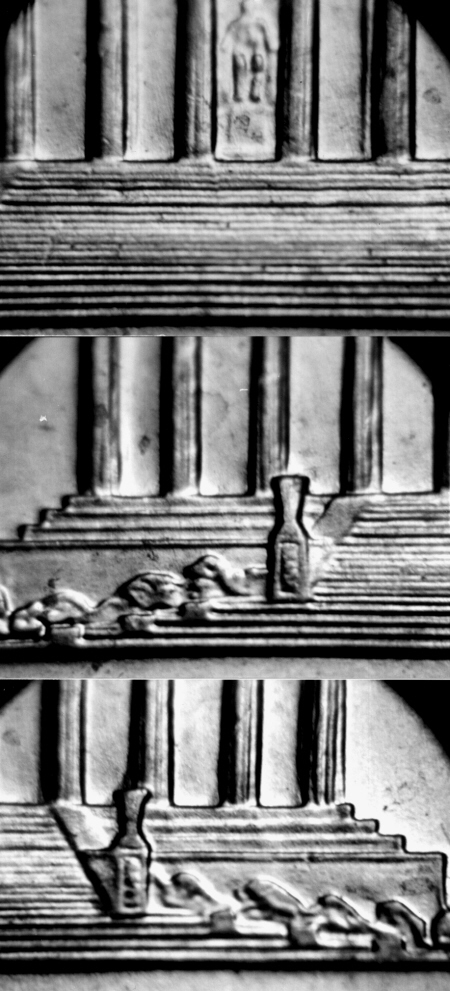 This is a look at one of the less defined varieties
It is listed as VCR#2/DDR#2
At the time the single-squeeze hubbing process was implemented, I went on public record, (on rec.collecting.coins), predicting that it was only a matter of time before we saw a doubled die produced via this process. Within short order my prediction came true when the a 1997 cent was discovered with a doubled ear lobe, upper ear and well over a dozen other areas of doubling in the hair. Yes, some folks claimed the 1997 doubled die was not a doubled die at all but a conveniently located and shaped die break extending from the earlobe, BUT, they always, without exception, avoided talking about the 14 other areas of doubling on the coin!
No, I am not a soothsayer with a crystal ball, but I was able to sort of peer into the future of the US Mint's single-squeeze program by reviewing the fact that several doubled dies had came out of the Royal Canadian Mint since they implemented the single-squeeze technology in 1978. The most compelling evidence was Canada's 1991 proof Snowy Owl $300 platinum coin which featured not one but two doubled dies (See my December 14, 1992, page 68, Coin World, Collectors' Clearinghouse feature for more info on this variety). This coin exhibited very widespread doubling that could not be argued away! Others were to follow including several found on Canada's 1996 $2 Polar Bear coins!
The facts were clear, doubled dies continued to get created (though at a greatly reduced rate) via the single-squeeze process within the RCM -- so there was no reason to suspect they wouldn't continue to be produced within the US Mint.
Additionally, while high-level officials that sit in front offices at the US Mint claim hub doubling cannot happen within the new process, at least two Mint technicians, (who have asked to remain anonymous and who have a working knowledge of the process), say it can and does occur. During VIP tours at the Mints, variety coin specialist, Christopher Pilliod was told that at the Philadelphia facility and specialist Frank Zapushek was advised the Denver Mint that that hub doubling could still occur. The Mint employee that talked to Zapushek even went so far as to describe the "clunk" that a cockeyed die makes when it is forced flush into the chuck (that holds the die blank in place) by the pressure of the hub!
It is my current position that unless the Mint produces some awfully compelling information to make me reverse my decision -- that the 2003 cents with "wavy steps" are in fact doubled dies!
Collectors should be aware of the fact that whatever caused the two varieties shown on this page may have caused many other similar varieties. So far we have examined three different examples and all three are from different dies with appearances that vary enough for us to ascertain that they are not from a doubled master die. Billy Crawford's finds also all appear to be from different dies. Though I have yet to see the actual coins -- the images of two of the varieties that Crawford supplied are show that both are different. Variety attributer, John Wexler (who has studied five of Crawford's coins) has stated they are all from different dies. If fact, we predict there could be hundreds of different dies involved in varying strengths!
The ease in which they have been found thus far is suggestive of the fact that many more will be found. Kuykendall found his specimen on the one-and-only 2003 cent he was able to examine while stationed overseas. I found my example on the first of two 2003 cents I examined. Billy Crawford, the most aggressive searcher so far, has found at least five to date. In an November 20 email from Crawford he states:
"I found a total of four in a $25 box of circulated bank wrapped rolls obtained from my local bank. I would estimate that each roll probably had about 10-15 or so coins of the 2003 Lincoln cents mixed in with the other various dates of the roll."

That would mean that on average, one out of about every 156, 2003 dated cents that he searched bore a doubled die reverse. Certainly not as easy pickings as finding them on the first coin searched, but still rather prolific (though we reiterate that we believe that each of his finds represents a different die).
Another submitter, Duane Bauer, who sent an example in early December stated that he found his first example out of about 40, 2003 cents that he had saved in April. He stated further, that more recently he found three more examples from "two different dies" out of about 20 coins searched.
It will take more searching of far more coins all over the country to ascertain if numbers of different dies continue to get discovered and just how widespread the distribution of certain strong varieties may be. We are of the opinion that only the strongest of dies has any possibility of obtaining significant value.
*The second person that we made mention of in our Sept 20 article, eventually sent his coin in for exam and it has been determined that the variations to the steps on his coin were due to unrelated causes not significant to this discussion.
The original article on this topic that occupied this URL
has been moved to: 2003 Cents w/Wavy Steps
---
For more information on this item click below:
Send email to: KPotter256@aol.com
---
Ken Potter
P.O. Box 760232
Lathrup Village, MI 48076-0232
Phone: 1-(313)255-8907 E-mail: KPotter256@aol.com
Numismatist Since 1959 ~ Serving the Collector Since 1973
CONECA's Longest Serving Doubled Die Attributer
Member of: ANA CONECA-LM NLG NCADD-FM MSNS-LM
NWDCC RCC COINMASTERS LCS WBCC BBCC

Unless otherwise stated, all Photographic Images are by Ken Potter. Copyright Ken Potter, 1993, 1994, 1995, 1996, 1997, 1998, 1999, 2000, 2001, 2002. Use of images in any manner is strictly prohibited without the express written permission of the copyright holder.

Free counters provided by Andale.