From Ken Potter ...
~~Serving The Collector Since 1973~~
A Quick Reference to
the Top Lincoln Cent
Die Varieties
by Gary Wagnon, Karen Peterson, Kevin Flynn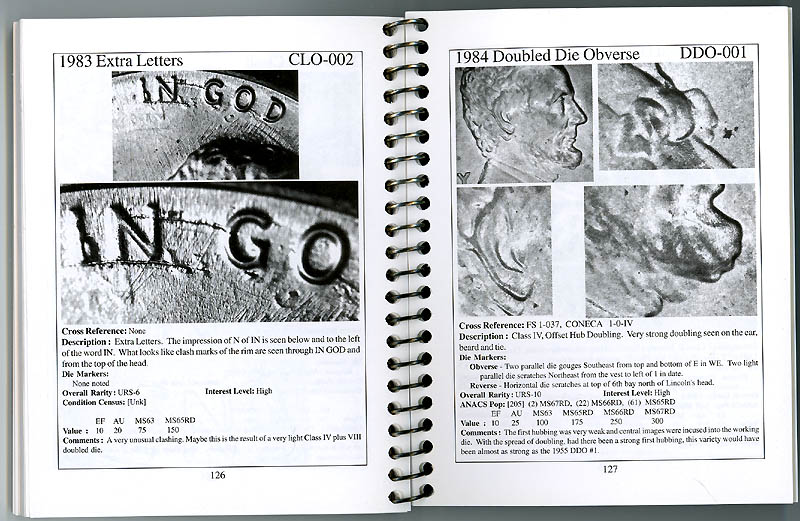 Here is a look at a couple of pages from the book
"When you stop to think about it -- finding just one coin that is listed in this book
-- will pay for the book many times over!"
This neat spiral bound 4-1/4" x 5-1/2" pocket book contains 144 pages crammed full of the pertinent information needed to identify and price what what the authors feel are the top Lincoln cent varieties (there are a few more than 100 listed in this book).
By eliminating most of the typical introductory type chapters that are often included in larger format books (such as those that go into great detail diagnosing how varieties are created, how to tell die doubling apart from lesser forms of doubling, etc.), this book cuts past the repetitive clutter and delves right into the variety listings.
Additionally, by reducing text size and the wise cropping images, the authors were able to present images at a size that are large and easy to view -- showing every single variety to best advantage. In fact, most of the images in this book are far superior to the tiny images found in the Cherrypickers' Guide To Rare Die Varieties! In effect, it is an excellent companion to the CPG where a collector wants to get a better look at what many of those varieties really look like -- plus it includes some better varieties missed in the CPG! When you stop to think about it -- finding just one coin that is listed in this book -- will pay for the book many times over!
Each variety includes a brief description of what it is and what to look for, Wexler listing numbers (for the most part), cross reference listing numbers to Cherrypickers' Guide and CONECA, a rarity guide, an ANACS population report, values and an additional comments section.
This book was designed for easy carrying to conventions and shops where other larger format books become cumbersome and heavy to lug around. It's the type of book you can throw into your suite coat pocket (or the back pocket of you jeans) and forget it's there until you need it! Covering varieties spanning from 1909 through 1997, the regular retail price on this book is $24.95. It is now out-of-print and getting hard to find.
We have purchased one of the author's entire remaining supply and will offer the book at a discount until the supply grows low (at which point we will raise it to $24.95 again).
"When you stop to think about it -- finding just one coin that is listed in this book
-- will pay for the book many times over!"
Regular Retail Price -- $24.95
Order at only $17.95
(plus $3.99 s/h)
---
For more information on this item or to subscribe to our Free Newsletters (by simply requesting them) click below:
Send email to: KPotter256@aol.com

Terms of Sale: Satisfaction guaranteed! 14 days return privileges for items in original untampered holders -- no questions asked with100% of the price charged refunded less our actual cost to ship the item(s) or postal charges collected (whichever is higher). All checks must clear bank. Unless otherwise noted, please add $3.99 for postage/handling and insurance on all coin orders (including art bars, medals, rounds, defaced coinage dies, hobby memorabilia, etc.); add $3.99 for the first book ordered plus $1.50 per book thereafter. eBay auctions may be combined with a single postage rate sent for the total. Calculate coin, book and supply orders separately to arrive at your total postage costs when combining eBay auctions. Foreign orders cost extra -- please contact me for the amount due at the time of your order. Books are shipped "Special 4th Class" unless other arrangements are made. No COD orders accepted. Make checks and money orders payable to and send to:
Ken Potter
P.O. Box 760232
Lathrup Village, MI 48076-0232
Phone: 1-(313)255-8907 E-mail: KPotter256@aol.com

I accept MasterCard & VISA payments exclusively through X.com's PayPal!



Numismatist Since 1959 ~ Serving the Collector Since 1973
CONECA's Longest Serving Doubled Die Attributer
Member of: ANA CONECA-LM NLG NCADD-FM MSNS-LM
NWDCC RCC WBCC BBCC
---

Visit our website to view 40+ pages of Error-Variety Coins, U.S. Defaced Coinage Dies, Medals, Silver Art Bars/Rounds, Numismatic Books & Supplies and an Educational Image Gallery by clicking below:
Ken Potter's Variety Vault


Or Go Directly To Each Updated Page by clicking below:
Books & Supplies
Error-Variety Coins
Rare-Coin-Reproductions
Book-Of-The-Month Special
Bars-Medals-Rounds & Other Exonumia
Error/Variety Coin Examination Services
Unless otherwise stated, all Photographic Images are by Ken Potter. Copyright Ken Potter, 1993, 1994, 1995, 1996, 1997, 1998, 1999, 2000, 2001. Use of images in any manner is strictly prohibited without the express written permission of the copyright holder.

Free counters provided by Andale.