This Month's Special:
New From Krause Publications ...
Strike It Rich
With Pocket Change
Error Coins Bring Big Money
by Brian Allen & Ken Potter
NEW Third Edition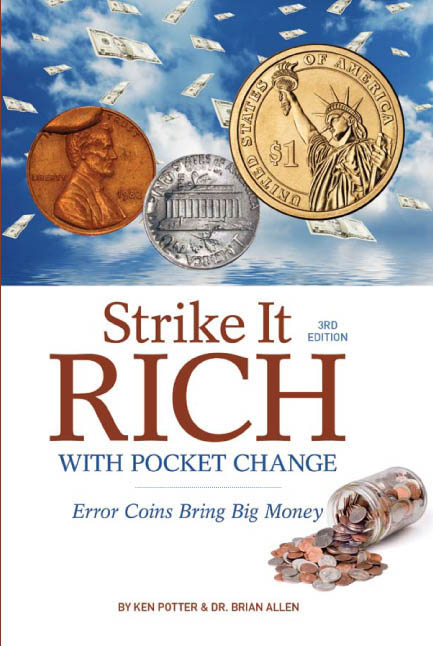 April 12, 2011 -- Have you ever knowingly spent $100 on a candy bar or $50 on a soft drink? As ludicrous as the concept sounds, the authors, Ken Potter and Dr. Brian Allen suggest that there is no doubt you have unintentionally done this numerous times without even knowing it, contending that there are just as many valuable coins in circulation today as there were 50 years ago. As more collectors and general coin enthusiasts are drawn to the treasure-hunt appeal of error and variety coins, interest in everyday coins is increasing as people take a closer look at the change in their pocket.
The U.S. Mint's popular state, territorial and America The Beautiful quarter programs and the introduction of the Westward Journey nickels (in 2004-5) and a new dollar coin series has produced new discoveries and has generated greater attention and interest from the public.
Thus the need for an updated version of this book, which helps make sense of it all and gives greater meaning to phrases including "Doubled Die," "Repunched Mintmark," "Double Edge-Lettering," "Misaligned Clashed Die" and "Die Dents."
In this new edition of Strike It Rich with Pocket Change readers learn about the different types of errors and varieties and how to spot them in varying types of coins, using the unique and useful combination of nearly 1000 photos and illustrations comparing properly minted coins with their error counterparts. In addition, the authors' insights help dispel common myths about error and variety coins.
Among the coins included in the listings are Lincoln Memorial cents, Jefferson nickels, Roosevelt dimes, Washington quarters, John F. Kennedy half dollars, state quarters and all the dollar coins issued since the Eisenhower dollar through the current Presidential dollars. While the listings focus on the more valuable rare coins, the principles discussed throughout this book can be applied when researching and inspecting any coin for possible errors.
The book can be found in book stores such as Barnes & Noble, Borders, Amazon.com, and many numismatic book and supply dealers. An autographed copy may be ordered direct from Ken Potter by sending $19.99 plus $3.99 shipping to P.O. Box 760232, Lathrup Village, MI 48076
$19.99 + $3.99 Shipping/Ins.
See Free Offer Below!
---
Do It Yourself Counterfeit Protection ...
Detecting Counterfeit Gold Coins
by Lonesome John Devine


This is the latest 1994 Printing
This is the one and only -- the original -- Detecting Counterfeit Gold Coins by Lonesome John Devine! Tens of thousands of counterfeits exist on the popular coin types now being placed in portfolios every day! With a focus on the universally popular subject of counterfeit gold coins, Devine examines the diagnostics of many individual U.S. and foreign coins; numerous dates of U.S. $1, $2-1/2, $3, $5, $10 & $20 gold coins are explored, the Canadian 1967 $20 gold, British Sovereigns, French, Netherlands, Russian, Mexican, Swiss and other counterfeits are fully examined and illustrated by Devine's world renowned photography. You'll learn more here about the diagnostic features found on counterfeit gold than in any other book ever written on the subject!
We Are The Exclusive Distributor Of This Book
They are new and sealed in plastic
$14.95 + $3.99
Free Offer!
Order Strike It Rich With Pocket Change and get
Detecting Counterfeit Gold Coins for free! Just add an additional $1.50
to help with shipping (the total for both books including shipping would be $25.48.
To subscribe to our Free Newsletters
(by simply requesting them) click below (request: Error-VarietyNewsletter, ReproNews, and/or Bars-Medals-RoundsUpdateNews):
Send email to: KPotter256@aol.com
---
---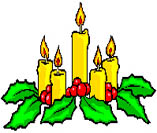 Pay me securely with any major credit card through PayPal!

Persons wanting to call to use a credit card by phone may do
so at either of the numbers listed below:
Home Office Phone: (313)255-8907 (preferred)
Cell Phone: (313) 268-3280 (best if nobody answers the office phone)

How to order: You may pay by check or money order, VISA , MasterCard, Discover or though PayPal. Click on the PayPal logo above to get to PayPal. My email address (kpotter256@aol.com) is my "account number" at PayPal. PayPal is highly recommended, as it allows you to use a credit card without sharing your credit card information over the Internet with many dealers or going through the trouble of making many calls to assure the security of your credit card information. Persons wanting to call to use a credit card may do so at either of the phone numbers listed below.
Postage/Handling/Insurance: Unless otherwise noted, please add $3.99 for postage/handling/insurance on all coin and book orders, add $4.50 to all supply orders. $4.50 to all supply orders. $4.50 to all supply orders. $4.50 to all supply orders. All payments must be made in US funds. As they are shipped separately of one another, please calculate coin, book and supply orders separately to arrive at your total postage costs. We insure via Private-Courier Services™ (for lower valued packages) or the United States Postal Service -- vendor of our choice. Foreign orders cost more to ship; please contact us for an estimate of those costs before bidding.
Terms of Sale: Satisfaction guaranteed! 14 days return privileges.
Ken Potter
P.O. Box 760232
Lathrup Village, MI 48076-0232
Home Office Phone: (313)255-8907
Cell Phone: (313) 268-3280
E-mail: KPotter256@aol.com


Numismatist Since 1959 ~ Serving The Collector Since 1973
CONECA's Longest Serving Doubled Die Attributer
Member of: ANA, CONECA-LM, NLG, NCADD-FM, IASAC, MSNS-HLM
NWDCC, RCC, WBCC, BBCC

Visit our website to view 40+ pages of Error-Variety Coins, U.S. Defaced Coinage Dies, Medals, Silver Art Bars/Rounds, Numismatic Books & Supplies and an Educational Image Gallery by clicking below:
Ken Potter's Variety Vault



Or Go Directly To Each Updated Page by clicking below:
Books & Supplies
Error-Variety Coins
Rare-Coin-Reproductions
World Coin Offerings
Defaced U.S. Coinage Dies
Book-Of-The-Month Special
Bars-Medals-Rounds & Other Exonumia
Error/Variety Coin Examination Services
For a List of Our eBay Auctions please click below:
Our eBay Auctions
Unless otherwise stated, all Photographic Images are by Ken Potter. Copyright Ken Potter, 1993-2009. Use of images in any manner is strictly prohibited without the express written permission of the copyright holder.

Free counters provided by Andale.