From Koinpro.com ...
A PQ ANACS Certified MS64
So-Called 1950-D over S
Over Mint Mark
Roosevelt Dime
In Mint State Grade!
As Listed In The "Red Book!"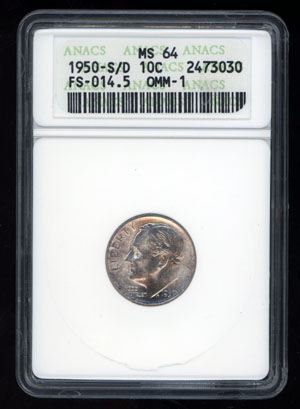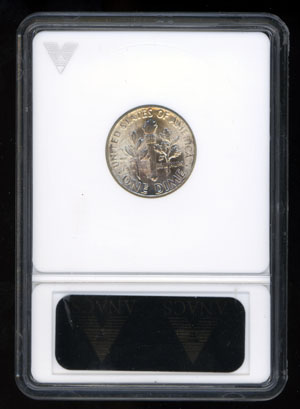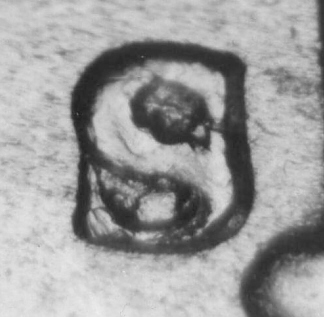 The coin we offer here is of the same
die stage shown in the photomicrograph above
This is the so-called "S over D" that is misattributed in the Red Book, Cherrypickers' Guide, and in the CONECA listings as such. It it actually a S over Inverted S which is a truly rare variety type in it's own right. In fact, Vertical over Inverted Mint Mark varieties are far less common on United States coinage then Over Mint Marks! No matter what you want to call it, it is a major variety that here to stay since it's listing in the Red Book cemented it in as a "must have" to collectors of the series. Cherrypickers' Guide lists this variety at $400.00 for MS63 -- (which is the highest grade they list it in) and it lists at $350 in the Red Book for the same MS63 grade.
This one is a very attractive high-end MS-64 piece with no distracting marks or stains. It's nice and original and exhibits 90% white surfaces and hints of toning that began only after the coin was slabbed several years ago (which is a lesson to those that insist on and pay extra for bright 100% white, (i.e., "dipped out"), coins that are going to tone later anyway)!
You'll find this coin an extremely attractive, problem-free, addition to your collection! There will be no surprises. The coin delivered from this auction will be exactly as shown and described -- except our scans make it appear more toned than it is. This is a truly rare coin that is not offered often and only the second Mint State specimen we have had in stock! The true rarity of this coin dictates that it is one with a bright future that we feel is destined to do nothing but increase in value. Unlike other "rare" varieties that have popped up with alarming frequency once they were publicized in high-circulation books such as the Red Book or Cherrypickers' Guide, this is one that has remained elusive to say the least.
ANACS-64 $499.00
---




Terms of Sale: Satisfaction guaranteed! 14 days return privileges for items in original untampered holders -- no questions asked with100% of the price charged refunded less our actual cost to ship the item(s) or postal charges collected (whichever is higher). All checks must clear bank. Unless otherwise noted, please add $2.95 for postage/handling and insurance on all coin orders (including art bars, medals, rounds, defaced coinage dies, hobby memorabilia, etc.); add $3.50 for the first book ordered plus $1 per book thereafter (not to exceed $6.50), add $3.50 to all supply orders. eBay auctions may be combined with a single postage rate sent for the total. Calculate coin, book and supply orders separately to arrive at your total postage costs when combining eBay auctions. Foreign orders cost extra -- please contact me for the amount due at the time of your order. Books are shipped "Special 4th Class" unless other arrangements are made. No COD orders accepted. Make checks and money orders payable to and send to:
Ken Potter
P.O. Box 760232
Lathrup Village, MI 48076-0232
Phone: 1-(313)255-8907 E-mail: KPotter256@aol.com

I accept MasterCard & VISA payments exclusively through X.com's PayPal!



Numismatist Since 1959 ~ Serving the Collector Since 1973
CONECA's Longest Serving Doubled Die Attributer
Member of: ANA CONECA-LM NLG NCADD-FM MSNS-LM
NWDCC RCC COINMASTERS LCS WBCC BBCC
---

Visit our website to view 40+ pages of Error-Variety Coins, U.S. Defaced Coinage Dies, Medals, Silver Art Bars/Rounds, Numismatic Books & Supplies and an Educational Image Gallery by clicking below:
Ken Potter's Variety Vault



Or Go Directly To Each Updated Page by clicking below:
Books & Supplies
Error-Variety Coins
Rare-Coin-Reproductions
World Coin Offerings
Defaced U.S. Coinage Dies
Book-Of-The-Month Special
Bars-Medals-Rounds & Other Exonumia
Error/Variety Coin Examination Services
For a List of Our eBay Auctions please click below:
Our eBay Auctions
Unless otherwise stated, all Photographic Images are by Ken Potter. Copyright Ken Potter, 1993, 1994, 1995, 1996, 1997, 1998, 1999, 2000, 2001. Use of images in any manner is strictly prohibited without the express written permission of the copyright holder.