Rare Coins From Somalia!




Ultra Rare!
Somalia 1998 $5 Titanic
Presentation Coin
Struck In .999 Fine Silver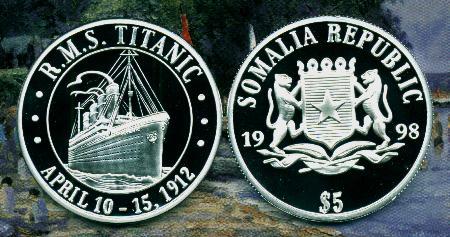 Mintage: 200 Worldwide

The regular issue of the Somalian $5 Titanic Coin is struck in cupro-nickel and weighs 26.5 grams. The one offered here is one of the rare presentation pieces struck in 1oz. (31.1 grams) of pure .999 fine silver! It measures 39 mm. Only 200 were produced in silver and all are are deep cameo proof strikes that will grade at least Proof-67! It comes encapsulated inside of a plush royal blue velvet case.


All pieces are struck with a 3/4 Reeded Edge Collar
& Edgemarked .999 Silver To Differentiate
Them From the normal Cupro-Nickel Strikes
Regular Issue Price $150.00
Our Price $65.00
We are the exclusive distributors of this coin
Dealers inquire


From Ken Potter ...
~~Serving The Collector Since 1973~~
Somalia 1998 $20 Titanic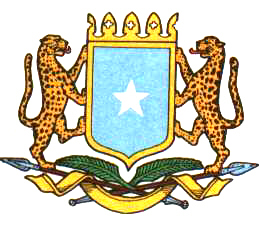 Only 50 Sets In Existence!
Struck In Three Metals
Golden-Bronze - Cupro-Nickel - Pure Silver
(Listed for the next edition of "Unusual World Coins" by Krause as KM#: TS1, TS2, TS3, TS4, TS5, TS6)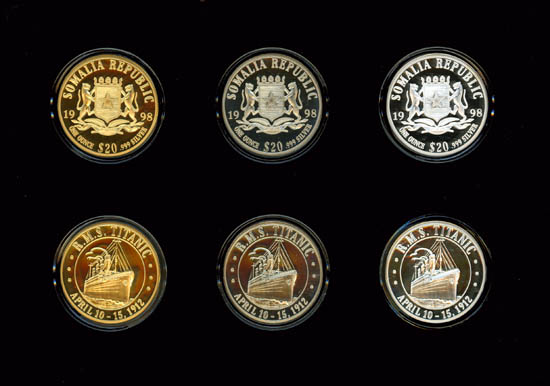 The Front Of Each Coin Boasts The Somali Coat of Arms Obverse
Or Titanic Reverse In Three Different Metals

Common Reverse To All Six Trial Coins
(Each Reverse Notes The Metal It Is Struck In)

Only 50 Six-Piece Sets Minted!*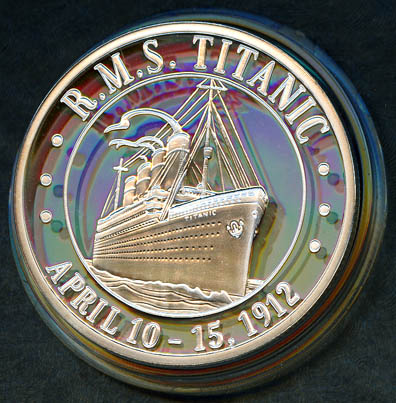 Color Tones On Coin (and on set above) Are Reflections From The Photographic Process Used To Show
The Awesome Reflectivity Of The Mirror-Like Fields Contrasted Against The Deep Cameo Designs!
The Coins Are Actually Immaculate Golden Or Silver In Color!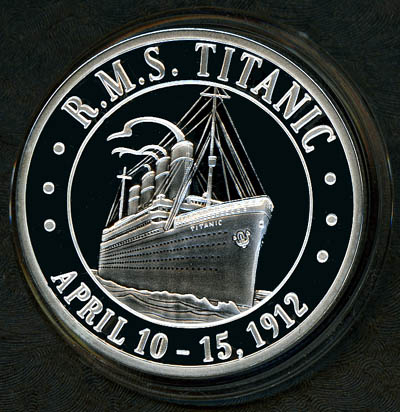 Here We Have Placed The Coin On A Scanner Flat To The Glass To
Show The Awesome "Black & White" Cameo Effect To Best Advantage!
The Coins Are Actually Immaculate Golden Or Silver In Color With Flawless Mirror Backgrounds!
How Often Do You Really Get The Chance
To Own A Coin With A Mintage Of 50?
Here You Get To Own Six Of Them!

This is a flawless six-coin set of trial strikes produced for the Somalia 1998 $20 Titanic Commemorative Coin! This set is comprised of six coins showing the obverse and reverse of the Titanic coin struck in 1oz pure silver, cupro-nickel and golden-bronze. Each side of the normal coin is mated and struck with a special reverse die that states it is a Trial Strike and identifies the metal it is struck in (see the example of the bronze reverse shown above).
They are "cameo" proof strikes; the backgrounds are perfect reflective "blazing-mirrors" (which show up jet-black in scans) and the designs are frosty white (which, of course show up white in scans). The contrast between the mirror-like backgrounds and design is stunning! The silver pieces weigh exactly one ounce and are struck in pure .999 silver while the cupro-nickel and golden-bronze issues weigh about 26 grams each. All are 39 mm in diameter which is a bit larger than a U.S. silver dollar. Add this rare set to your collection today!
$450.00 per set
We are the exclusive distributor of this set!
* Please note, when we say only 50 Sets were minted we mean just that plus you should know that no other "singles" were made to sell separate from sets! Plain and simple -- just 50 of each coin was minted and all 50 were assembled into sets!
---




Terms of Sale: Satisfaction guaranteed! 14 days return privileges for items in original untampered holders -- no questions asked with100% of the price charged refunded less our actual cost to ship the item(s) or postal charges collected (whichever is higher). All checks must clear bank. Unless otherwise noted, please add $2.95 for postage/handling and insurance on all coin orders (including art bars, medals, rounds, defaced coinage dies, hobby memorabilia, etc.); add $3.50 for the first book ordered plus $1 per book thereafter (not to exceed $6.50), add $3.50 to all supply orders. eBay auctions may be combined with a single postage rate sent for the total. Calculate coin, book and supply orders separately to arrive at your total postage costs when combining eBay auctions. Foreign orders cost extra -- please contact me for the amount due at the time of your order. Books are shipped "Special 4th Class" unless other arrangements are made. No COD orders accepted. Make checks and money orders payable to and send to:
Ken Potter
P.O. Box 760232
Lathrup Village, MI 48076-0232
Phone: 1-(313)255-8907 E-mail: KPotter256@aol.com

I accept MasterCard & VISA payments exclusively through X.com's PayPal!



Numismatist Since 1959 ~ Serving the Collector Since 1973
CONECA's Longest Serving Doubled Die Attributer
Member of: ANA CONECA-LM NLG NCADD-FM MSNS-LM
NWDCC RCC COINMASTERS LCS WBCC BBCC
---

Visit our website to view 40+ pages of Error-Variety Coins, U.S. Defaced Coinage Dies, Medals, Silver Art Bars/Rounds, Numismatic Books & Supplies and an Educational Image Gallery by clicking below:
Ken Potter's Variety Vault



Or Go Directly To Each Updated Page by clicking below:
Books & Supplies
Error-Variety Coins
Rare-Coin-Reproductions
World Coin Offerings
Defaced U.S. Coinage Dies
Book-Of-The-Month Special
Bars-Medals-Rounds & Other Exonumia
Error/Variety Coin Examination Services
For a List of Our eBay Auctions please click below:
Our eBay Auctions
Notice to Mints and Their Agents: Please note that we are always interested in purchasing unusual items that were not previously released or widely distributed that are of low mintage such as: Presentation Pieces, Trial Strikes, Set Up Coins, Salesman's Samples, Error Coins, Pattern Coins, Lead Trials, Off Metals (deliberate or in error), Mules, Overruns, Plasters, Significant Art, Working Dies and/or Master Tools. If you have anything unusual with a low mintage and wish to clear your vaults it will pay you to contact us.
Unless otherwise stated, all Photographic Images are by Ken Potter. Copyright Ken Potter, 1993, 1994, 1995, 1996, 1997, 1998, 1999, 2000, 2001, 2002. Use of images in any manner is strictly prohibited without the express written permission of the copyright holder.