---
Ken Potter's Educational Series


A Look at Frank Gasparro's
1977 Proposed Liberty Head
Mini-Dollar Design
by Ken Potter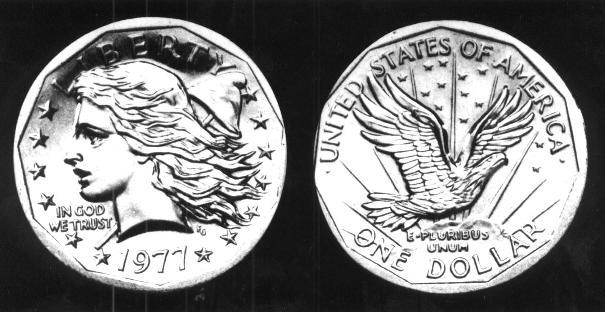 11-Sided Inside Border Version
Photo courtesy of Krause Publications
Undoubtedly one of the more interesting designs proposed for the dollar coin in recent years was the Flowing Hair Liberty Head Obverse / Eagle in Flight Reverse proposed by United States Mint Engraver, Frank Gasparro in 1977. The central design on the obverse was comprised of a Liberty Head and Liberty Cap on Pole not unlike a very similar design originally appearing on Augustin Dupre's, undated Libertas Americana medal of 1782 (and copied to a greater or lesser degree by a plethora of others since).
To many, including this author, Gasparro's Liberty design was far superior to that of the adopted Susan B. Anthony design first introduced to circulation in 1979 (and also begrudgingly designed by Gasparro who favored his earlier proposals).
The images shown here are of one of the actual trial strikes which was photographed before destruction by the government. It is the identical design shown in the 1977 Report Of The Director Of The Mint page 8. Click here to see the Mint Report. Other versions were produced and described in the Mint Report.
For more information on this coin and other U.S. "Small Size" (not including gold) dollars we suggest you visit: Mike Wallace's Small Dollar Site
Image and Mint Report supplied by Gerald Cardini
---


Visit our website to view 40+ pages of Error-Variety Coins, U.S. Defaced Coinage Dies, Medals, Silver Art Bars/Rounds, Numismatic Books & Supplies and an Educational Image Gallery by clicking below:
Ken Potter's Variety Vault
Or Go Directly To Each Updated Page by clicking below:
Books & Supplies
Error-Variety Coins
Rare-Coin-Reproductions
Defaced U.S. Coinage Dies
Book-Of-The-Month Special
Bars-Medals-Rounds & Other Exonumia
Error/Variety Coin Examination Services
Unless otherwise stated, all Photographic Images are by Ken Potter. Copyright Ken Potter, 1993, 1994, 1995, 1996, 1997, 1998, 1999, 2000, 2001. Use of images in any manner is strictly prohibited without the express written permission of the copyright holder.

Free counters provided by Honesty.com.