2007-P Adams Dollar Errors!
Smooth (Plain) Edge - Double Edge-Lettering
Matte Finish Edge -- Small & Large Font Edge Letting
Plain (or Smooth) Edge 2007-P Adams Dollars!

Here is a look at the plain edge (also known as "smooth edge" and "godless dollar") variation.
Plain Edge Adams Dollar Prices
These are many times scarcer than the George Washington Smooth Edge dollars!
MS63/64 $399.00, MS65 $550.00
JT Stanton Signature Series PCI Graded: MS65 $650.00, MS66 $750.00, MS67 $899.00
---
Double Lettering Edge 2007-P Adams Dollars!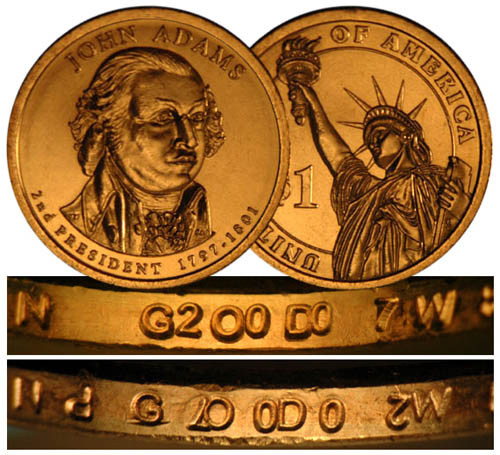 Here is a look at the two double edge lettering varieties. The edge-view just below the full-view shot of the dollars
shows the word GOD "struck" over an upright date while the edge-view on the coin below it shows the word GOD
"struck" over an inverted (upside-down) date. In all cases the doubling is across the entire edge like this!
The entire edge-inscription: "2007 P - E PLURIBUS UNUM - IN GOD WE TRUST" is doubled all the way around on every coin! Every one is different! Some have both edge-inscriptions jumbled up in the same direction (as seen in the top left micro-image with the word "GOD" over the date). These have the tops of their inscriptions facing the reverse (Position A) or facing the obverse (Position B). Others are bi-directional as in the lower left micro image showing "GOD" over inverted date (Position A over B).
Double Edge Lettering Adams Dollars Prices
Double Edge-Lettering (Overlapping) Tops of Letters Facing Rev (Position A)
MS60/+ $89., MS63 $99.99, MS64 $109., PCI-65 $149., PCI-66 $165., PCI-67 $185.
Double Edge-Lettering (Overlapping) Tops of Letters Facing Obv (Position B)
MS60/+ $89., MS63 $99.99, MS64 $109., PCI65 $149., PC-66 $165., PCI-67 $185.
Double Edge-Lettering Bi-directional (Inverted) (Position A inverted over B)
MS60/+ $89., MS63 $99.99, MS64 $109., PCI65 $149., PC-66 $165., PCI-67 $185.
Double Edge-Lettering (Position Of Our Choice)
ICG-61 $99.00
*PCI Certified coins are in JT Stanton Signature Series Holders!

Understanding the Lettering Position Designations

Using the PCGS System, Presidential Dollars With The Tops The
Edge Lettering Facing the Reverse Are Designated As "Position A"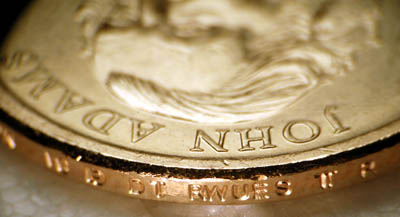 Those With The Tops Of Their Letters Facing The Obverse Are "Position B"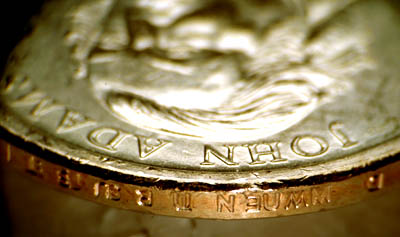 Here Is An Inverted Type (Position A Over Position B) Where We Can See Letters Facing Both Directions
"Typewriter or Repeater Edge"
Adams Dollars!









Mathematically, only about one out of 100 of the double edge-lettered Adams dollars will have a repeater effect as shown here. Some will overlap slightly like a 1955 Dbl Die Cent while others will have total separation between all or most of the characters along the edge. The effect is uniform along the entire edge as in: 22000077 PP IINN GGOODD WWEE …" These routinely sell on eBay for 10x of more the prices of the typical jumbled edge doubling and stand out as the premiere Adams dollar error -- even over the smooth edges in terms of both rarity and visual effect! Most everybody that had any of these is now sold out! This is the toughest of all the Adams errors! We were able to obtain 16 out of about 2,000 double-edge errors we searched and offer them here on a first come first serve basis.
MS63/64 $750.00, MS65 $850.00
More 2007-P Adams Dollar Edge Varieties
Matte Finish/Small Diameter Edge Errors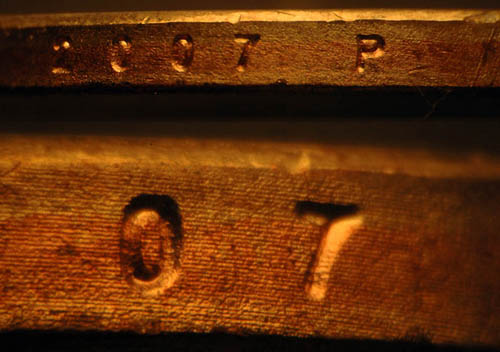 Two views of the so-called Matte Finish Edge -- the coins are also smaller in diameter w/thicker rims than normal.
2007-P John Adams Dollar. Matte Finish Edge/Small Diameter Errors! These errors obviously went through the Schuler edge letting machine with the edge lettering die set too tight. The result is that the coins were force-spun butted up all the way to the shoulder of the edge letting die thus transferring a sort of matte effect from the shoulder of the edge lettering die to the edge of each coin. The process also reduced the diameter of each coin significantly in addition to creating extremely strong edge lettering and thicker rims (you can only fit 23 of these into a plastic tube intended to hold 25). We purchased just under 50 of these and found their average diameter at around 26.33 while the diameter of the normal coins is 26.50.We offer them as follows:
MS63 $39.95, MS64 $49.95, MS65 $75.00
---
Small Font & Large Font Edge Lettering Varieties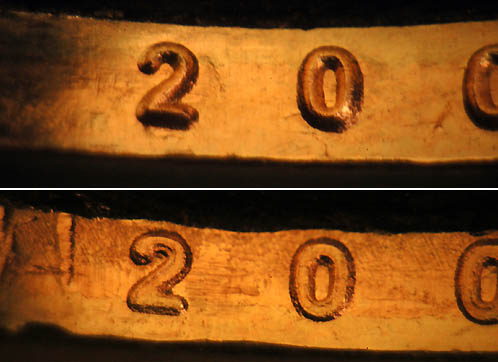 Two views of the so-called Small and Large Font 2007-P Adams dollars. Notice the narrow chisel-like recesses
of the "Small Font" and the wide recesses of the "Large Font" especially noticeable on the 7 and P.
2007-P John Adams Dollar "Large Font" and "Small Font" Edge Lettering. Set Of Four Coins. We do not know the exact cause but the so-called Large Font is distinctly different than the Small Font in that the Large Font has wide flat tops that are nearly as wide as the bases of the letters while the Small Font is characterized by a gradual taper that results in more pointed tops to the letters. Per Set with tops of Large and Small Font letters facing reverse (Position A) and Large and Small facing obverse (Position B). Total of four coins per set.
MS63 $14.95, MS64 $24.95, MS65 $39.00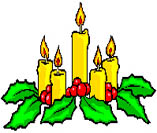 Pay me securely with any major credit card through PayPal!

Persons wanting to call to use a credit card by phone may do
so at either of the numbers listed below:
Home Office Phone: (313)255-8907 (preferred)
Cell Phone: (313) 268-3280 (best if nobody answers

How to order: Please send an email to KPotter256@aol.com (or call -- see below) indicating which items are of interest and I will set them to the side for you and confirm their availability via return email. You may also call to check on the availability of items at the number listed below. You may also order without seeking confirmation of availability but you run the risk of some items being sold out. In this case a full refund will be issued for any sold out items. You may pay by check or money order. I also accept VISA and MasterCard though PayPal. Click on the PayPal logo above to get to PayPal. My email address (kpotter256@aol.com) is my "account number" at PayPal. PayPal is highly recommended, as it allows you to use a credit card without sharing your credit card information over the Internet with many dealers or going through the trouble of making many calls to assure the security of your credit card information. Persons wanting to call to use a credit card may do so at either of the phone numbers listed below.
Postage/Handling/Insurance: Unless otherwise noted, please add $3.99 for postage/handling/insurance on all coin and book orders, add $4.50 to all supply orders. $4.50 to all supply orders. $4.50 to all supply orders. All payments must be made in US funds. As they are shipped separately of one another, please calculate coin, book and supply orders separately to arrive at your total postage costs. We insure via Private-Courier Services™ (for lower valued packages) or the United States Postal Service -- vendor of our choice. Foreign orders cost more to ship; please contact us for an estimate of those costs before bidding.
Terms of Sale: Satisfaction guaranteed! 14 days return privileges for items in original untampered holders -- no questions asked with 100% of the price charged refunded less our actual cost to ship the item(s) or postal charges collected (whichever is higher). Note that proof sets or other Mint products ordered "Mint Sealed" or in otherwise unopened packaging are not returnable for any reason. You always have the option of us opening such packaging and inspecting the contents for you to assure quality before we ship. Such items are returnable as per the above terms. To see a detailed explanation of our policies on Tracking Service Options, Foreign Orders, Terms of Sale, Methods of Shipment (including optional shipment services available), Time of Shipments, Methods of Payment Accepted, Treatment of Technical Information Supplied, How to Make an Inquiry, etc., check here: "Fine Print."
Note: The terms of sale on this page are the most up to date possible and supercede any others that may be out-of-date on other pages
Ken Potter
P.O. Box 760232
Lathrup Village, MI 48076-0232
Home Office Phone: (313)255-8907
Cell Phone: (313) 268-3280
E-mail: KPotter256@aol.com


Numismatist Since 1959 ~ Serving The Collector Since 1973
CONECA's Longest Serving Doubled Die Attributer
Member of: ANA, CONECA-LM, NLG, NCADD-FM, IASAC, MSNS-HLM
NWDCC, RCC, WBCC, BBCC
Return to Ken Potter's Variety Vault Homepage
Books & Supplies
Error-Variety Coins
Rare-Coin-Reproductions
Book-Of-The-Month Special
Bars-Medals-Rounds & Other Exonumia
Error/Variety Coin Examination Services
Unless otherwise stated, all Photographic Images are by Ken Potter. Copyright Ken Potter, 1993-2009. Use of images in any manner is strictly prohibited without the express written permission of the copyright holder.
---