From Koinpro.com (Ken Potter) ...
Your Error Coin Dealer Since 1979!

George Bush
Republican Task Force
Shattered Coinage Die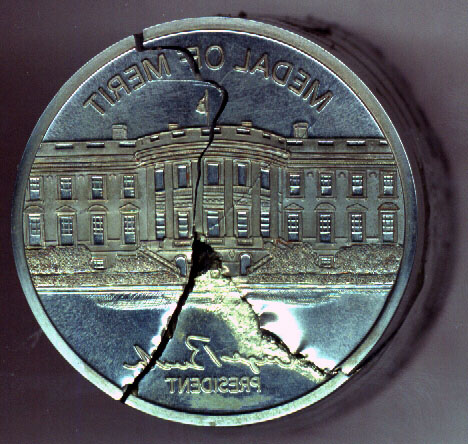 View of the die taped together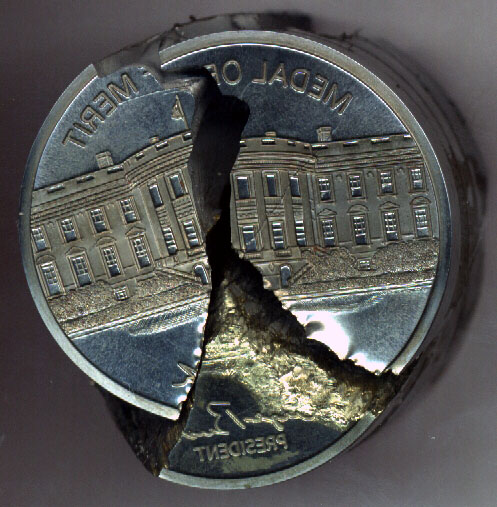 Exploded View Of Same Die

This is the actual coining die that was used to strike the Medal Of Merit / Republican Presidential Task Force medal that was delivered to honorees during the Bush Sr. administration in the early 1990's. The "Republican Presidential Task Force" was founded by President Ronald Reagan during his administration and continues today. The medals struck from this die can occasionally be found on eBay.
This die is unique in that after shattering it still survives well over a decade after-the-fact! This is a BIG die that struck medals that were 2" in diameter! The medals were struck in bronze and then gold plated and delivered in a velvet case. You can see the bronze that adhered to the sandblasted areas of the die (the White Hours and lettering). All sandblasted dies that strike bronze pick up this coloration in the devises and it makes the die look even more interesting as it give it color contrast.
This die came into my possession from an old-world engraver that cuts dies for me. One day he was describing how he was cleaning up his work area that contained many old dies that were damaged or otherwise unusable. I laughed, joking that he had "screwed up" so many dies that they cluttered his space. He then told me they were not "his" screw ups -- but dies that had been damaged during use that had been sent to him by various Mints, either to see if they could be repaired or as a sample of what they wanted cut for a new replacement die.
I then asked if instead of discarding them, he would send them all to me, no matter how badly damaged and I offered to pay freight plus a price per die depending one what it was. In short order they arrived. Most were "common" Mardi Gras type dies, etc., but a few were of historical significance or otherwise collectable beyond the obvious interest they would have to an error coin collector looking to own a die that may have created errors.
This particular die is undoubtedly, the most important of the group! For error collectors, this die represents the epitome of what a shattered die is and it is the most massive example I have ever seen on an actual die. The die actually "exploded" into at least five pieces (though minor pieces from the upper shank not related to the design were swept away and discarded). You can handle all three pieces and see the inner core of the die and see how it broke. I've also provided a second image that shows another view of the die with the pieces spread further apart . Neat!!!
There is a good chance that the death of this die resulted in two different varieties of this medal being created and if that is the case -- now we know why! For the collector of medals or political items this is a one-of-a-kind item that you are not going to find anywhere else! In fact, the chances of being able to own a die of this significance, made for a medal officially approved by a President of the United States, is slim to none!
SOLD --- Thanks for looking!
---
---




Terms of Sale: Satisfaction guaranteed! 14 days return privileges for items in original untampered holders -- no questions asked with100% of the price charged refunded less our actual cost to ship the item(s) or postal charges collected (whichever is higher). All checks must clear bank. Unless otherwise noted, please add $2.95 for postage/handling and insurance on all coin orders (including art bars, medals, rounds, defaced coinage dies, hobby memorabilia, etc.); add $3.50 for the first book ordered plus $1 per book thereafter (not to exceed $6.50), add $3.50 to all supply orders. eBay auctions may be combined with a single postage rate sent for the total. Calculate coin, book and supply orders separately to arrive at your total postage costs when combining eBay auctions. Foreign orders cost extra -- please contact me for the amount due at the time of your order. Books are shipped "Special 4th Class" unless other arrangements are made. No COD orders accepted. Make checks and money orders payable to and send to:
Ken Potter
P.O. Box 760232
Lathrup Village, MI 48076-0232
Phone: 1-(313)255-8907 E-mail: KPotter256@aol.com

I accept MasterCard & VISA payments exclusively through X.com's PayPal!



Numismatist Since 1959 ~ Serving the Collector Since 1973
CONECA's Longest Serving Doubled Die Attributer
Member of: ANA CONECA-LM NLG NCADD-FM MSNS-LM
NWDCC RCC COINMASTERS LCS WBCC BBCC
---

Visit our website to view 40+ pages of Error-Variety Coins, U.S. Defaced Coinage Dies, Medals, Silver Art Bars/Rounds, Numismatic Books & Supplies and an Educational Image Gallery by clicking below:
Ken Potter's Variety Vault



Or Go Directly To Each Updated Page by clicking below:
Books & Supplies
Error-Variety Coins
Rare-Coin-Reproductions
World Coin Offerings
Defaced U.S. Coinage Dies
Book-Of-The-Month Special
Bars-Medals-Rounds & Other Exonumia
Error/Variety Coin Examination Services
For a List of Our eBay Auctions please click below:
Our eBay Auctions
Unless otherwise stated, all Photographic Images are by Ken Potter. Copyright Ken Potter, 1993, 1994, 1995, 1996, 1997, 1998, 1999, 2000, 2001. Use of images in any manner is strictly prohibited without the express written permission of the copyright holder.