New From the Royal Oak Mint ...
Exact-Size Reproduction
1793 Wreath Cent
"Errors"
Pure Copper / Full Red!
Double Strikes
(w/Two Dates!)
&
Off Center Strikes


Typical Double Strike From The Group
photo © Ken Potter 2002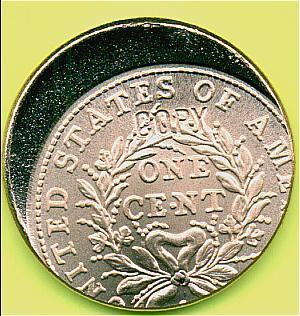 photo © Ken Potter 2002
Typical Off Center From The Group
These die-struck 1793 Wreath Cents are reproductionsof this classic rarity minted on pure copper planchets just like the originals; the reverse shows "COPY" incuse, neatly worked into the design as required by law.
The pieces offered here are Royal Oak Mint's reproductions of Double Strikes and Off Center Strikes! All of the Double Strikes chosen for this offering boast two dates! Only 100 pieces of each type of "error" were reported struck!
Each these fascinating pièces de caprice were fed into the dies by hand! The Double Strikes were minted normally for the first strike and then minted off center for the second strike while the Off Center Strikes were fed into the dies and struck with the planchet off center.
It is doubtful that anybody could ever own a genuine double strike like these and the off centers (if they exist) would also be extremely prohibitive. Now you can own them as high quality reproductions!
They look, feel and ring like the real thing! They are the perfect coins for error collectors that need to fill those impossible holes in their "Type Error Coin Collections" or for the Copper Specialist that desires to own such elusive rarities!
Very few of these were made and they are not being offered to the public in any of ROM's ads!
Note: We were the very first to pick through the small group of these interesting pièces de caprice. Naturally, we picked out the very best for our customers. We picked the nicest double strikes with the most of two dates showing and the furthest off center strikes possible! You will not find better quality anywhere else!
Your Choice of Full BU/Red
Double Strike or Off Center at:
$49.95 each
Or Both For
$95.00
(plus postage)
(Also availabe with a custom factory-toned-brown finish at $5 per coin extra)
Thanks for looking!
Ken Potter - Royal Oak Mint Director of International Sales
Click Below To Return To:
Rare-Coin-Reproductions Page
---

Postage/Handling/Insurance: Please add $2.95 for postage/handling/insurance on all coin & jewelry orders (including art bars, medals, rounds, defaced coinage dies, hobby memorabilia, jewelry items, etc.); add $3.50 for the first book ordered, (except on any of Walter Breen's Encyclopedias -- add $5.00 due to excessive weight), plus $1.00 per additional book ordered thereafter (not to exceed $6.50), add $3.50 to all supply orders.
Terms of Sale: Satisfaction guaranteed! 14 days return privileges for items in original untampered holders -- no questions asked with 100% of the price charged refunded less our actual cost to ship the item(s) or postal charges collected (whichever is higher), plus a $3 processing fee for returned items purchased via eBay or other auctions.
Ken Potter
P.O. Box 760232
Lathrup Village, MI 48076-0232
Phone: 1-(313)255-8907 E-mail: KPotter256@aol.com
Numismatist Since 1959 ~ Serving the Collector Since 1973
CONECA's Longest Serving Doubled Die Attributer
Member of: ANA CONECA-LM NLG NCADD-FM MSNS-LM
NWDCC RCC COINMASTERS LCS WBCC BBCC
Royal Oak Mint Director of International Sales
---
View 40+ pages of Error-Variety Coins, U.S. Defaced Coinage Dies, Medals, Silver Art Bars/Rounds, Numismatic Books & Supplies and an Educational Image Gallery by clicking below:
Ken Potter's Variety Vault


Or Go Directly To Each Updated Page by clicking below:
Books & Supplies
Error-Variety Coins
Rare-Coin-Reproductions
World Coin Offerings
Defaced U.S. Coinage Dies
Book-Of-The-Month Special
Bars-Medals-Rounds & Other Exonumia
Error/Variety Coin Examination Services
---
Our eBay Auctions
(If you see something you like and want to investigate our auctions more fully please click the below link for a full-size screen)
Our eBay Auctions
Every lot is fully illustrated

---
Unless otherwise stated, all Photographic Images are by Ken Potter. Copyright Ken Potter, 1993, 1994, 1995, 1996, 1997, 1998, 1999, 2000, 2001, 2002. Use of images in any manner is strictly prohibited without the express written permission of the copyright holder.

---